Ken and Andy further lower WFMU's already abysmal standards as the program enters its death throes. Stunt radio which subjects the radio audience to concepts and topics which mature adults should not have to endure. Find the fatal flaw.
Visit the Seven Second Delay with Ken and Andy homepage


Seven Second Delay with Ken and Andy is also available as a podcast. For more info on how to have the MP3 archives of Seven Second Delay with Ken and Andy delivered automatically to your computer and/or MP3 player, visit our Podcast Central page.

February 29, 2012: Wheel of Fate Fundraising 2012. Archive Currently Unavailable.

Read comments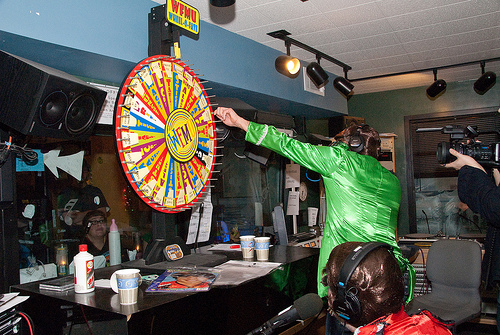 The 2012 Seven Second Delay Wheel of Fate Fundraising Episode
Every $15 pledger gets the punchline to this riddle, which was written by five-year-old Evan Breckman:
"A man ate one spoonful of food at breakfast and got a tummy ache. How is that possible?"
For every $1000 raised, Andy or Ken spin the WHEEL OF FATE!

Here are the items on the Wheel of Fate tonight:
Andy or Ken will:
Wear a sandwich board that says "I am the 1%!" in Manhattan's Washington Square Park for 30 minutes.
Buy their kids a $200 shopping spree on Amazon. No editing Evan's choices either, Andy!
Pour old coffee grounds into their underwear.
Read 100 lines of poetry on the air (if Ken) or read 100 sentences of the book:
Occupy: Scenes From Occupied America
(if Andy).
Pick each other's noses.
Sincerely read an ad - promoting a band, website, business, etc - for the biggest donor of the last round.
Use giant Incredible Hulk Hands to pleasure themselves live on the webcam
Tell a boiler story or do a tabletop drum solo.
Kiss each other's feet.
Do a future show where they knock on Snooki & J-Woww's front door and ask for a WFMU donation.
Let themselves be hugged for the rest of the show by a phone volunteer.
Commission Black Velvet artist Jorge to make a realistic velvet painting of them romantically intertwined.
Talk on-air in babytalk for 2 minutes.
Trade their underwear.