Order and disorder in a freeform haze of terribly-played guitars, shorted-out electronics, found audio detritus, strange sounds from strange lands all around. Psych-punk-junk, collage, even pop. Lots of in-studio live performances to boot.

June 8, 2010: special: Experimental cassette culture w/RYAN MARTIN from DAIS Records/Period Tapes

Listen to this show: | Add or read comments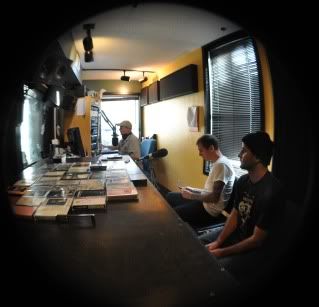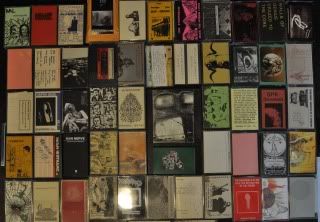 Brian is joined today by Ryan Martin of Dais Records/Period Tapes/York Factory Complaint to dig out dusty boxes of found tapes old and new, discussing cassette culture starting in the late '70s post-industrial / synth realm and going through the '80s and '90s up until the deluged tape scene today. Playing avant Fluxus cassettes, artist recordings, tape manipulations, unheard dialogue, drone noise and warped field recordings. Things are going to get weird. Thanks to Period's Lou Calderola for photosnaps! Check out DAIS Records, a label co-run by Ryan, and Period Tapes, run by Ryan and Lou.
| Artist | Track | Album | Label | Comments | Approx. start time |
| --- | --- | --- | --- | --- | --- |
| Regression | Sun Damage | Sun Damage | AA | | 0:00:00 () |
| Coum Transmissions | Excerpt from Stained by Dead Horses | V/A Voice Spondence Vol. 2 | | | 0:09:09 () |
| These Feathers Have Plumes | Of Endings | Of Endings and Beginnings | Period Tapes | | 0:11:44 () |
| Hoor-Paar-Kraat | What the Flame Does Not Consume | Ship of the Desert | Period Tapes | | 0:18:21 () |
| Drowning the Virgin Silence | Soft White Fur | split w/ Hoor-Paar-Kraat | Goat Eater | | 0:25:05 () |
| Throbbing Gristle w/Albrecht D | 30-7-76 (excerpt) | 30-7-76 | (private tape) | | 0:30:44 () |
| Mechanique Vegetale | Intetatia | Musique Pour Self-Service | Grafika Airlines | | 0:39:29 () |
| Deviation Social | Afternoon Muzak | Practices/Demo June-Oct 81 | PPresence | | 0:42:01 () |
| Guy Debord | Untitled | Various: The Myth Is In Art | Dokument | | 0:45:06 () |
| Mudboy | Summer of Saucers | split w/ Ducktails | TNT | collaborating with a swamp. | 0:47:59 () |
| Pipeline Alpha | Nagelfar in an Icier Lull | | DNT | | 0:56:47 () |
| Aaron Dilloway | Untitled | Psychic Driving Tapes | Medusa | | 1:03:47 () |
| P16.D4 | Die Zwanghafte Einweisung Des Anselm Weinberg In Die Freibank | Various: Wahrnehmungen sampler 1981 | Selektion | | 1:09:01 () |
| David Tibet | Reading Excerpt of "The Process Gods On War" | private casstte | | | 1:12:03 () |
| John Strongbow | At the Outskirts of the Alien City | At the Outskirts of the Alien City | | | 1:14:18 () |
| Nurse With Wound | Our Passions Are Inclined | Various: European Square Vol. 1 | Bande Blanche | | 1:18:13 () |
| Illusion of Safety | Theme From Belfast Race Riot | Finite Material Context | Complacency | | 1:29:57 () |
| Jackson MacLow | Milarepa Gatha | Various: The Healing Power of Sound | Revealer | | 1:31:48 () |
| SPK | Live Danceteria '82 | Live Danceteria '82 | | | 1:36:57 () |
| Alles Sal Reg Kom | Let's Go/I Don't Want To Be | Y13 | Exart | | 1:45:58 () |
| Luca Miti | Multiple Configuration | Possible Plays | Audiogiochi | | 1:47:21 () |
| Ira Cohen | Excerpt | Live at the Knitting Factory 1/23/91 | No Label | | 2:01:38 () |
| The Disturbed | Radical Sabbatical | Various: For Your Ears Only - Jersey Beat Comp 2 | Jersey Beat | | 2:07:36 () |
| Walls of Genius | Henry the 8th | Crazed To the Core | | | 2:08:25 () |
| If, Bwana | Live at the Force-Nordstram Gallery | Cache la Poudre | Sound of Pig | | 2:10:13 () |
| Roman Cross | The Dead Branch Reh | The Dead Branch Reh | Yoke of Christ | | 2:16:11 () |
| Tara Cross | Everybody's On the Bus | Various: Madness Lives: walls of Genius comp (tribute) | | | 2:20:08 () |
| M.A.L. | Atropine | Chemistry | Grafika Airlines | | 2:22:48 () |
| Ios Repairs | Cockbeat | Ios Repairs | Sound of Pig | | 2:26:09 () |
| Antonin Artaud | Opening Text | Dokument 3 | Dokument | | 2:27:39 () |
| Carl Matthews | Be Like a Child / Blessing | Call For World Savious | Mirage | | 2:31:29 () |
| Portable Vaudeville | Live | Holland Festival | Exart | | 2:38:03 () |
| Coum | Excerpt | Mother Spunk | | | 2:49:19 () |
| ZZ Pot | Excerpt | Further Down the Road to Ecological Collapse and the Fucking Apocalypse Featuring DJ Mad Lion | | taped over a Shell Oil truckstop comp of Charlie Daniels, Lee Greenwood etc. sampling the original material | 2:52:28 () |
| Psyclones | Rejection / He Whol Falls | Cult Leader Gang Raped by Disciples | Ladd-Frith | | 2:56:23 () |