March 8, 2008: Marathon Week #2 With Co-host Evan

Listen to this show:

Pop‑up player!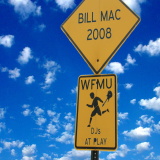 $75 gets you my Premium plus a chance to win Andy Partridge "Fuzzy Warbles" 8CD Box Set
$50 gets you in the running for "How Low Can You Go? : Anthology of the String Bass (1925-1941)"
Pledge online at wfmu.org or call 1-800-989-9368
| Artist | Track | Album | Label | Comments | New | Approx. start time |
| --- | --- | --- | --- | --- | --- | --- |
| Rufus Harley | The Crack | Re-Creation of the Gods | Transparency | | | 0:00:00 (Pop‑up) |
| Rhys Chatham | Waterloo No.2 | Die Donnergotters | Table of Elements | PLEDGE $10 or MORE & get in the running for this CD. Call 1-800-989-9368 or pledge online. | | 0:17:16 (Pop‑up) |
| Paul Bley | And Now the Queen | Closer | ESP-Disk | | * | 0:26:51 (Pop‑up) |
| Donna | Improvised Soundtrack for a Nightmare at Zweibone | Bill Mac's 2008 Marathon Premium "DJs at Play" | | $75 gets you my Premium plus a chance to win Andy Partridge "Fuzzy Warbles" 8CD Box Set | | 0:35:41 (Pop‑up) |
| Andy Partridge | Dame Fortune | Fuzzy Warbles Vol 1 | Ape House | | | 0:37:53 (Pop‑up) |
| A Certain Ratio | Shack Up | In the Beginning There Was Rhythm | Soul jazz | | | 0:40:26 (Pop‑up) |
| Medicine Head | Coast to Coast | John Peels Dandelion | Dandelion | | | 0:44:03 (Pop‑up) |
| Kevin Coyne & Siren | Ze Ze Ze Ze | Dandelion Years | Dandelion | | | 0:46:07 (Pop‑up) |
| Harlem Hot Shots | Who's Sorry Now | How Low Can You Go? | Dust to Digital | PLEDGE $50 or MORE to get in the running for this CD | | 0:48:50 (Pop‑up) |
| Evangelista | Winds of St Anne | Hello Voyager | Constellation | PLEDGE $10 or MORE & get in the running for this CD. Call 1-800-989-9368 or pledge online | * | 1:02:34 (Pop‑up) |
| Andy Partridge | Obscene Procession | Fuzzy Warbles Vol 2 | Ape House | $75 gets you a chance to win Andy Partridge "Fuzzy Warbles" 8CD Box Set and you get my Premium "DJs at Play" | | 1:05:21 (Pop‑up) |
| Edda Dell'Orso | Un Altro Mare | Voice | Bella Casa | | | 1:10:23 (Pop‑up) |
| Oorjak Hunashtaar-ool | Reka Alash | Melodii Tuvi | Dust to Digital | PLEDGE $10 or MORE & get in the running for this CD. Call 1-800-989-9368 or pledge online. | | 1:14:45 (Pop‑up) |
| Huun Huur Tu | Taraan-Taraam | If I'd Been Boran an Eagle | Shanachie | | | 1:15:50 (Pop‑up) |
| Shoukichi Kina | Bancho Guwa | .... and Champloose | | | | 1:18:44 (Pop‑up) |
| French Frith Kaiser & Thompson` | Hai sia Oji San | Live Love Larf & Loaf | Shanachie | | | 1:22:02 (Pop‑up) |
| Stone Breath | Track 2 Track 1 | A Silver Thread to Weave the Season | | | | 1:38:19 (Pop‑up) |
| Move | Fields of People | Shazam | A&M | | | 1:40:14 (Pop‑up) |
| Tony Coulter | The Good Life | Bill Mac's 2008 Marathon Premium "DJs at Play" | WFMU | This Spoken Word Piece is on my Premium "DJs at Play" and can be yours for $75 or MORE | | 1:49:55 (Pop‑up) |
| Sat Mantsakay | Tuvan Folk Tunes | Melodii Tuvi | Dust to Digital | | | |
| State Street ramblers | Some day You'll Know | How low Can You Go? | Dust to digital | | | 2:07:57 (Pop‑up) |
| Andy Partridge | Rook | Fuzzy Warbles Vol 5 | Ape House | $75 gets you a chance to win Andy Partridge "Fuzzy Warbles" 8CD Box Set and you get my Premium "DJs at Play" | | 2:10:43 (Pop‑up) |
| Bruce Haack | Program Me | Electric Lucifer | Omni | PLEDGE $10 or MORE & get in the running for this CD. Call 1-800-989-9368 or pledge online. | | 2:14:25 (Pop‑up) |
| Emmylou Harris, Alison Krauss and Gillian Welch | Didn't Leave Nobody But the Baby | O Brother Where Art Thou | Mercury | | | 2:18:51 (Pop‑up) |
| Les Negresses Vertes | Sobe la Mouche | 10 remixes | | | | 2:25:15 (Pop‑up) |
| Cyro Baptista | Marrie | Love the Donkey | Tzadik | | * | 2:30:44 (Pop‑up) |
| 2/5 BZ | Militant Oriental | No Exotic | Gozel | | * | 2:34:11 (Pop‑up) |
| OCDJ | Trip Trip | Hooray | Wildfire Wildfire | PLEDGE $10 or MORE & get in the running for this CD. Call 1-800-989-9368 or pledge online. | | 2:38:30 (Pop‑up) |
| Andy Partridge | Don't You Ever Dare Call Me Chickenhead | Fuzzy Warbles Vol 5 | Ape House | PLEDGE $75 or MORE to get in the running for this CD. Call 1-800-989-9368 or pledge online. | | 2:40:03 (Pop‑up) |
| Brigitte Fontaine & Areski | Les Borgias | Incendie | Saravah | | | 2:49:29 (Pop‑up) |
| Hanne Hukkelberg | The Northwind | Rykestrasse 68 | Nettwerk | PLEDGE NOW !!!!! Call 1-800-989-9368 or online at wfmu.org | * | 2:52:49 (Pop‑up) |
| The Smoke | My Friend Jack | Real Life Permanent Dreams | Castle | | | 3:03:36 (Pop‑up) |
| Icarus | Yellow Balloon | Real Life Permanent Dreams | Castle | | | 3:04:45 (Pop‑up) |
| Status Quo | Pictures of Matchstick Men | Real Life Permanent Dreams | Castle | | | 3:12:45 (Pop‑up) |
| The Nice | The Diamond Hard Apples of the Moon | Real Life Permanent Dreams | | | | 3:16:04 (Pop‑up) |
| Crackers | Honey Do | Fairy Cakes for Tea | Psychic Circle | | | 3:19:03 (Pop‑up) |
| Buppah Saichol | There are Many Handdome Men Out There | Thai Pop Spectacular | Sublime | PLEDGE $10 or MORE & get in the running for this CD. Call 1-800-989-9368 or pledge online. | | 3:24:01 (Pop‑up) |
| The Holy Mackeral | Nothin Short of Misery | The Holy Mackeral | | | | 3:26:35 (Pop‑up) |
| Three Dog Night | Old Fashioned Love Song | Best | Dunhill | | | 3:28:47 (Pop‑up) |
| Kermit D Frog | Rainbow Connection | Muppet Movie | | | | 3:35:28 (Pop‑up) |
| Scott Williams | I'm Going Back there Some Day | Bill Mac's 2008 Marathon Premium "DJs at Play" | | | | 3:39:13 (Pop‑up) |