Hatch: Playlist from December 12, 2005
I play great music and talk to people about stuff.
<-- Previous playlist | Back to Hatch playlists | Next playlist -->
---

December 12, 2005: Michael Chapman Live Set And Interview

Listen to this show: | Add comments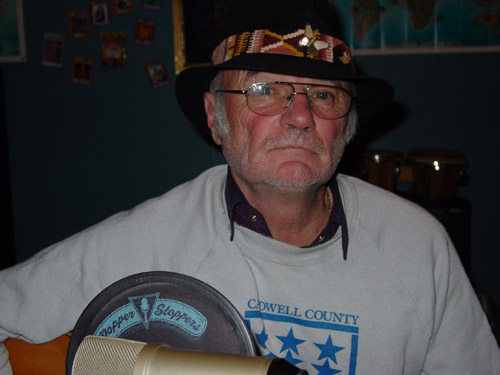 British folk singer Michael Chapman recorded a string of celebrated records for the Harvest, Deram, and Decca labels beginning at the end of the 1960s. In 1970, renowned BBC disc jockey John Peel named Chapman's Fully Qualified Survivor as his favorite album of the year. Fresh from his first New York shows in over three decades, Michael performed a solo acoustic set, discussed his long musical career, and shared anecdotes about his friendships and collaborations with John Fahey, Bridget St. John, legendary Memphis producer Don Nix, Elton John, Maddy Prior and Rick Kemp of Steeleye Span, Bert Jansch, John Martyn, Mick Ronson from the Spiders From Mars, and others.
(* = new)


Artist
Track
Album
Label
New
Approx. start time
Richard Pryor
Niggas/Arrest/Lineup
Music From The Wattstax Festival & Film
Ace/Stax
0:00:00 ()
Michael Chapman
Among The Trees
Window
Harvest
0:08:16 ()
Michael Chapman
Hobo's Lament
Savage Amusement
Decca
0:12:44 ()
Michael Chapman
Stranger Passing By
Deal Gone Down
Deram
0:15:41 ()
Michael Chapman
Ballad In Plain D
The Man Who Hated Mornings
Decca
0:19:11 ()
Michael Chapman
Sundamental
Millstone Grit
Deram
0:23:58 ()
Michael Chapman
Live On WFMU
0:31:08 ()
Michael Chapman
Stranger In The Room
Fully Qualified Survivor
Harvest
Drugi Nacin
Zuti List
Prog Is Not A Four Letter Word
Delay68
*
1:53:42 ()
Run-DMC
Christmas In Hollis
Tougher Than Leather
Arista
1:59:28 ()
Rodney Crowell
California Earthquake (A Whole Lotta Shakin' Goin' On)
Ain't Living Long Like This
Warner Bros.
2:02:30 ()
Lift Boys
Untitled
The Lift Boys
No Label
*
2:08:40 ()
Spectrum
Santa Claus
Super-Sympathy-Spectrum-Stocking-Stuffer!
Sympathy For The Record Industry
2:13:09 ()
Maximum Joy
Man Of Tribes
Unlimited 1979-1983
Crippled Dick Hot Wax
*
2:20:41 ()
Boondoggle & Balderdash
You Always Find A Way
Boondoggle & Balderdash
Universal City
2:26:37 ()
Bill Monroe
Christmas Time's A-Coming
Hillbilly Holiday
Rhino
2:31:08 ()
Budos Band
Monkey See, Monkey Do
The Budos Band
Daptone
*
2:34:11 ()
Yura Yura Teikoku
Frankie Teardrop
Soft Death/Frankie Teardrop
Sony Japan
*
2:41:49 ()
Lord Beginner
Christmas Morning The Rum Had Me Yawning
Where Will You Be Christmas Day?
Dust To Digital
2:46:14 ()
Adriana Sa
State: June '05
Exploratory Music From Portugal 05
Wire
*
2:49:58 ()
A Rubber Band Christmas
Feliz Rubberdad
A Rubber Band Christmas
ADA
2:52:00 ()
<-- Previous playlist
| Back to
Hatch playlists
|
Next playlist -->
RSS feeds for Hatch's show:

Playlists feed |

MP3 archives feed
|
E-mail Hatch
|
Other WFMU Playlists
|
All artists played by Hatch
|
---
Listen on the Internet
|
Contact Us
|
Music & Programs
|
WFMU Home Page
|
Support Us
|
FAQ
Live Audio Streams:
Pop-up
|
128k AAC
|
128k MP3
|
32k MP3
|
32k Windows
---