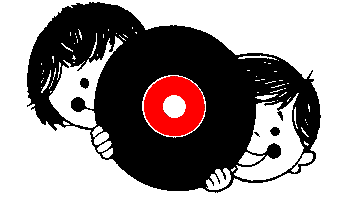 SEPTEMBER 3, 2005 (click here to listen!:
RealAudio
)
Back to School
THE DANDY LIONS - Greasy Kid Stuff
BECK - Funky Lil' Song
RED HOT CHILI PEPPERS - Yertle the Turtle
DR. SEUSS - Fox in Socks [narrated by Marvin Miller]
GEORGIA & AUGUST GREENBERG - M&M's Are Tasty!
THE DEAD HENSONS - Pinball
THE TELEPHONE COMPANY - Mr. Peanut
DOKTOR KOSMOS - L.S.A.T.T. (Lazy Sunday Afternoon Table Tennis)
ROSEY GRIER - It's All Right To Cry
MARY QUEEN OF SCOTS - Climb Ev'ry Mountain
THE DEAD HENSONS - First Day of School
BRIAN DEWAN - First Day of School
DIZZY GILLESPIE - School Days
JAMO THOMAS & HIS PARTY BROTHERS - Education Is Where It's At
NRBQ - The Music Lesson
SHEL SILVERSTEIN - Homework Machine
GARY U.S. BONDS - No More Homework
OTIS REDDING - Stay in School
MARSHA GEE - Peanut Duck
CAPTAIN BOGG & SALTY - Scurvy
S.F. SEALS - Kids Pirate Ship
BIG WHEEL POPCORN - Why, Grandpa?
FATCAT & FISHFACE - Gimme
WEIRD AL YANKOVIC - Yoda
ADAM WEST - The Story of Batman
DICKIE GOODMAN - Batman and His Grandmother
SHIRLEY ELLIS - The Name Game
BRAK - Really Cool Song
CRAIG CHIN - Junk Food
THE MR. T EXPERIENCE - Up and Down
ME FIRST & THE GIMME GIMMES - Rainbow Connection
MXPX - Scooby-Doo, Where Are You?
PARRY GRIPP - One Donut a Day
SHONEN KNIFE - Banana Chips
THE TOWNE DANDIES - Haircuts Now!
THE VESTIBULES - Bulbous Bouffant
An Elephant Never Forgets
REDD BLOOD CELLS - We Are Going To Be Friends

Hey, check out
this article about us
from last Sunday's Oregonian!
---
<-- Previous playlist
|
Back to other Greasy playlists
|
Next playlist -->
Back to GKS main page
|
E-mail Belinda and Hova
RSS feeds for Greasy Kid Stuff with Belinda and Hova:

Playlists feed |

MP3 archives feed
Generated by
KenzoDB
, (C) 2000-2014
Ken Garson