Hatch: Playlist from July 9, 2005
I play great music and talk to people about stuff.
<-- Previous playlist | Back to Hatch playlists | Next playlist -->
---

July 9, 2005: Mike Wexler Live Set And Interview

Listen to this show:

Pop‑up player! | Add comments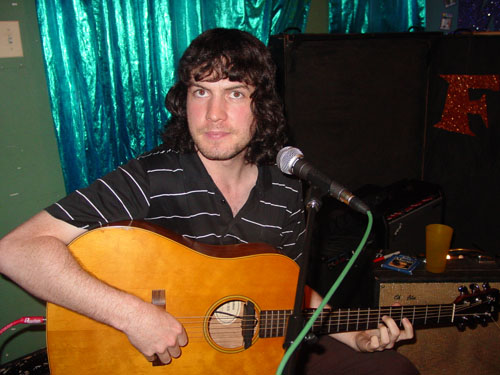 Mike Wexler, a singer-songwriter from Brooklyn by way of central New Jersey, performed live in our studio with accompaniment from Jordi Wheeler of The Occasion on Wurlitzer organ and backing vocals. Mike's debut EP was released by the I & Ear record label and features 5 graceful and stripped-down acoustic pop songs.
(* = new)


Artist
Track
Album
Label
Year
Format
Comments
New
Approx. start time
Mike Wexler
Sound The Mirror
Mike Wexler
I And Ear
*
0:00:00 (Pop‑up)
Mike Wexler
Live On WFMU
Engineered by Jason Engel
0:04:35 (Pop‑up)
Mayo Thompson
The Lesson
Corky's Debt To His Father
Drag City
1970
1994 reissue
0:54:09 (Pop‑up)
Mickey Newbury
Mister, Can't You See
Harlequin Melodies
RCA Victor
1968
co-written by Townes Van Zandt
0:56:50 (Pop‑up)
Mick Softley
Went Down To The Sea
Street Singer
BGO
1971
new reissue
1:02:33 (Pop‑up)
Mark Fry
Roses For Colombus
Dreaming With Alice
Akarma
1972
1:04:51 (Pop‑up)
Pep Laguarda & Tapineria
Cims I Abismes
Brossa D'Ahir
Discmedi
1976
*
1:10:06 (Pop‑up)
Long Blondes
Giddy Stratospheres
The Long Blondes
What's Your Rupture
12"
*
1:20:19 (Pop‑up)
Tomorrow's Friend
Banging Everything In Sight
Area 51
in8Skills
7"
*
1:25:05 (Pop‑up)
Antifamily
Law Of The Plainsmen
Game And Errancy
Difficult Fun
LP
*
1:30:05 (Pop‑up)
Love Supremes
Sing This All Together
Split with the Dirtbombs
Norton
7"
Rolling Stones cover
*
1:34:02 (Pop‑up)
20/20
Backyard Guys
20/20
Portrait
1979
1:37:12 (Pop‑up)
Manikins
Premonition
Alternative Animals
Shock
late 1970s
*
1:40:27 (Pop‑up)
Monolake
Digitalis
Polygon Cities
Imbalance Computer Music
*
1:47:26 (Pop‑up)
Pimmon
Smaller Than You Are
Liquid Architecture
RMIT/Wire
*
1:56:37 (Pop‑up)
Nether Dawn
icycle porn
Whiskey Mute Down
Last Visible Dog
a.k.a. Anthony Milton
*
2:02:23 (Pop‑up)
Herbert Eimert
Unknown (Track 3)
Epitaph Fur Aikichi Kuboyama
Wergo
electronically processed voices, recorded 1957-62
*
2:12:58 (Pop‑up)
Desmond Leslie
Esoteric Tone Poem
Music Of The Future
Trunk
late 1950s
*
2:18:33 (Pop‑up)
Dave Burrell
After Love Part 1 "Questions And Answers"
After Love
America
1970
*
2:29:32 (Pop‑up)
Big City Orchestra
My Master's Will
To Sir With Love: Scott Williams 2005 Marathon Premium
No Label
*
2:51:03 (Pop‑up)
Sexteto Electronico Moderno
Je T'aime, Moi Non Plus
Sounds From The Elegant World
Vampisoul
1970
accompanied by Henry Jacobs "Telephone Therapy"
*
2:54:58 (Pop‑up)
Angelo Lavagnino
I Diavolo Dello Spazio
Gamma 1 Quadrilogy
Dagored
1965
*
2:57:50 (Pop‑up)
Kim Jung Mi
Unknown (Track 6)
Now
World Psychedelia
3:00:19 (Pop‑up)
Trees Community
Psalm 42
The Christ Tree
Pomegranate
1975
*
3:09:41 (Pop‑up)
Ramases
Jesus Come Back
Space Hymns
Vertigo
1971
3:21:59 (Pop‑up)
Flatt & Scruggs
It Won't Be Long
Foggy Mountain Jamboree
Columbia Legacy
1957
*
3:25:39 (Pop‑up)
Webb Pierce
As Long As I'll Forgive
Memory #1
Decca
1965
3:28:33 (Pop‑up)
Chris Smither
Down In The Flood
Don't It Drag On
Poppy
1972
3:30:25 (Pop‑up)
Sonny Condell
Blackwaterawhile
Folk Music From Obscuristan: Shrunken Planet 2005 WFMU Marathon Premium
No Label
*
3:33:34 (Pop‑up)
Fursaxa
Neon Lights
Lepidoptera
ATP
*
3:38:11 (Pop‑up)
Andy Votel
Unknown (Track 9)
Songs In The Key Of Death
Fat City
*
3:44:06 (Pop‑up)
Jimmy Jukebox
25 Hours A Day
Kim Fowley: Outlaw Superman
Bacchus Archives
1972
3:48:11 (Pop‑up)
101ers
Keys To Your Heart
Elgin Avenue Breakdown Revisited
Astralwerks
1975
*
3:50:52 (Pop‑up)
Chosen Few
Am I Black Enough For You
Am I Black Enough For You: Jamaican Songs Of Freedom 1970-79
Trojan
1972
*
3:55:23 (Pop‑up)
<-- Previous playlist
| Back to
Hatch playlists
|
Next playlist -->
RSS feeds for Hatch's show:

Playlists feed |

MP3 archives feed
|
E-mail Hatch
|
Other WFMU Playlists
|
All artists played by Hatch
|
---
Listen on the Internet
|
Contact Us
|
Music & Programs
|
WFMU Home Page
|
Support Us
|
FAQ
Live Audio Streams:
Pop-up
|
128k AAC
|
128k MP3
|
32k MP3
|
32k Windows
---