Mike L.: Playlist from March 19, 2005
Freeform radio with a predilection for planet shattering beats, rumbling guitars, bit mappy electronics, hash hazy strumming, and other related sonics for cultured and urbane criminal types. Please direct all complaints to the attention of our North Bergen office.
<-- Previous playlist | Back to Mike L. playlists | Next playlist --> |
---
March 19, 2005: Marathon Show #2 with co-host David Suisman
Thanks to everyone who pledged! Here's to another year of Saturday nights together!

Listen to this show: RealAudio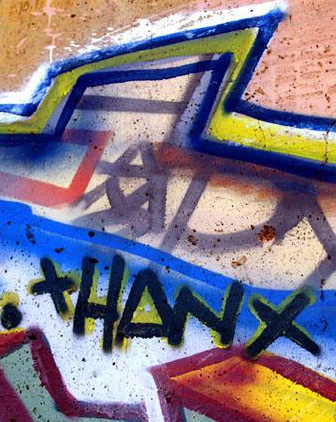 Artist
Track
Album
Comments
Approx. start time
Jobriath
Heartbeat
Lonely Planet Boy
Gang Starr
Credit is Due
Full Clip 2xCD The Best of Gang Starr
0:03:08 Real)
The Fluid
On My Feet
Purplemetalflakemusic
0:07:37 Real)
V3
Harry
Photograph Burns
0:12:18 Real)
Gun Club
Death Party
0:25:48 Real)
The Ex
Prism Song
Turn 2xCD
0:34:11 Real)
Wiley
Pies
Treddin' on Thin Ice
0:44:45 Real)
Bjork (w/ Dokaka)
Triumph of a Heart
Medulla
0:47:49 Real)
Smart Went Crazy
Exitfare
Con Art
0:53:59 Real)
Pell Mell
Nothing Lies Still Long
0:58:33 Real)
Dykehouse
Chainsmoking
Midrange
1:01:54 Real)
Wire
Outdoor Miner
1:05:44 Real)
Music behind DJ:
Gotan Project
Triptico
La Revancha del Tango
1:08:23 Real)
Busdriver
Unemployed Black Astrognaut
Fear of a Black Tangent
1:20:08 Real)
Blue Oyster Cult
Godzilla
MP3
1:24:34 Real)
Eagles of Death Metal
I Only Want You
Peace, Love, Death Metal
1:28:27 Real)
Juan McLean
Give me Every Little Thing
DFA Compilation #2 3xCD
1:42:05 Real)
Flesh Eaters
Miss Muerte
Miss Muerte
1:48:14 Real)
DJ Technics
Track 1 and 2
Clubtracks Vol. 1 compilation
1:49:20 Real)
Government Issue
Man in a Trap
You
1:55:22 Real)
Jesters of Destiny
Diggin' That Grave
2:06:21 Real)
Madeleine Chartrand
Ani Kuni
Total Freakout Vol 3
2:13:04 Real)
Calexico
Crystal Fronteir
Even my Sure Things Fall Through
2:19:28 Real)
Jeffrey Lewis
The History of Punk on the Lower East Side
MP3
2:23:08 Real)
Music behind DJ:
Buddy Holocaust
We Will Re-Take Saigon
2:44:27 Real)
Buddy Holocaust
Another Kent State
2:47:11 Real)
Solomon Burke
I Can't Stop Loving You
Dirty Laundry: The Soul of Black Country
compilation
2:50:03 Real)
<-- Previous playlist
| Back to
Mike L. playlists
|
Next playlist -->
RSS feeds for Mike L.'s show:

Playlists feed |

MP3 archives feed
|
E-mail Mike L.
|
Other WFMU Playlists
|
All artists played by Mike L.
|
---
Listen on the Internet
|
Contact Us
|
Music & Programs
|
WFMU Home Page
|
Blog
|
Support Us
|
FAQ
Live Audio Streams:
Flash
|
128k MP3
|
32k MP3
|
20k Real
|
20k Windows
---