Mike L.: Playlist from April 20, 2004
Freeform radio with a predilection for planet shattering beats, rumbling guitars, bit mappy electronics, hash hazy strumming, and other related sonics for cultured and urbane criminal types. Please direct all complaints to the attention of our North Bergen office.
<-- Previous playlist | Back to Mike L. playlists | Next playlist --> |
---
April 20, 2004: LIVE MUSIC FROM TURN ME ON DEAD MAN!

Listen to this show: RealAudio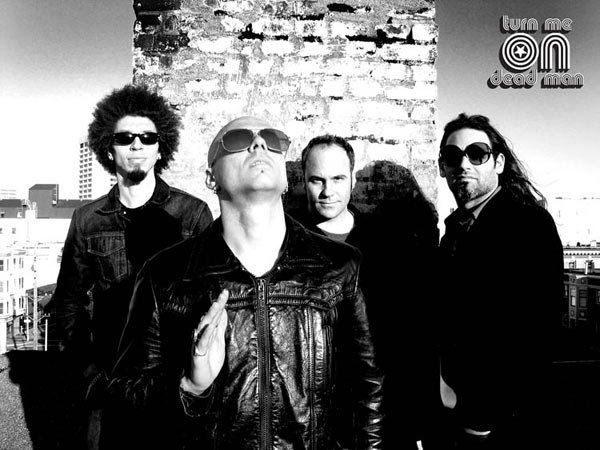 (* = new)
Artist
Track
Album
Comments
New
Approx. start time
Funkstorung (w/ Enir)
Moon Addicted
Disconnected
*
0:00:00 Real)
Carol Cool
Upside Down
Hustle!: The Best of Reggae Disco
compilation
0:04:09 Real)
The Donner Party
The Ghost
Complete Recordings 2xCD
0:07:31 Real)
Mission of Burma
Hunt Again
OnOffOn
*
0:12:35 Real)
Fleetwood Mac
Gold Dust Woman (demo)
Rumors
Re-issue -- Is it funnier that I played a new Mission of Burma record in 2004 or that I followed it up with a rare Fleetwood Mac demo off a new re-issue CD?
0:14:45 Real)
The Verve
Bittersweet Symphony
Illegal Art
compilation
0:19:43 Real)
Jonathan Richman
This Kind of Music
Jonathan Sings!
0:24:14 Real)
Peggy Scott & JoJo Benson
Til the Morning Comes
Soulshake
0:26:17 Real)
Nomeansno
Now
The People's Choice
*
0:39:46 Real)
Hangar 18
Beatslope (El-P Remix)
12"
*
0:44:21 Real)
Truth & Janey
Tunnel of Tomorrow
Monster Records Compilation: The 70s Sampler
*
0:47:29 Real)
The Junkyard Dogs
Breakin' the Law
Their Sympathetic Majesties Request 2xCD
compilation -- Judas Priest cover, by the way
*
0:55:16 Real)
Creedence Clearwater Revival
Lookin for a Reason
0:59:27 Real)
Fojimoto
Love is Gold
Don't Let Your Baby Down
*
1:02:02 Real)
Lee Hazelwood
Dolly Parton's Guitar
For Every Solution there's a Problem
1:07:02 Real)
Screaming Tribesmen
Igloo
The Savage Beast...
*
1:18:05 Real)
Caetano Veloso
Come As You Are
A Foreign Sound
Nirvana cover
*
1:21:36 Real)
Charlie Louvin
Something to Brag About
1:25:47 Real)
Eagles of Death Metal
I Only Want You
Peace Love Death Metal
w/ members of Queens of the Stone Age
*
1:28:10 Real)
Cain
If the RIght Don't Get You, The Left One Will
A Pound of Flesh
reissue
*
1:31:32 Real)
3Puen
She a Robot
MP3
*
1:34:58 Real)
Mar Mar Aye
Someday He Will Return
Princess Nicotine: Folk & Pop Music of Myanmar (Burma)
re-issue -- compiled by Alan Bishop of the Sun City Girls
*
1:39:37 Real)
Rodney and the Tube Tops
I Hate the 90s
Mayor of Sunset Strip
soundtrack
*
1:52:52 Real)
Reigning Sound
Your Love is a Fine Thing
Too Much Guitar
*
1:56:03 Real)
Beak
Airplane
7"
1:58:43 Real)
Live music from Turn Me On Dead Man!
Performing on Thursday (4/22) at The Hook (18 Commerce St., Brooklyn). Check their website out right here. Thanks to Diane Kamikaze for doing an expert job of engineering!
2:07:18 Real)
<-- Previous playlist
| Back to
Mike L. playlists
|
Next playlist -->
RSS feeds for Mike L.'s show:

Playlists feed |

MP3 archives feed
|
E-mail Mike L.
|
Other WFMU Playlists
|
All artists played by Mike L.
|
---
Listen on the Internet
|
Contact Us
|
Music & Programs
|
WFMU Home Page
|
Blog
|
Support Us
|
FAQ
Live Audio Streams:
Flash
|
128k MP3
|
32k MP3
|
20k Real
|
20k Windows
---