Mike L.: Playlist from March 9, 2004
Freeform radio with a predilection for planet shattering beats, rumbling guitars, bit mappy electronics, hash hazy strumming, and other related sonics for cultured and urbane criminal types. Please direct all complaints to the attention of our North Bergen office.
<-- Previous playlist | Back to Mike L. playlists | Next playlist --> |
---
March 9, 2004: Marathon Show #1 w/ co-host Scott Williams

Listen to this show: RealAudio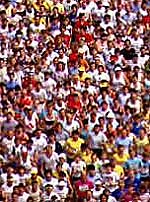 (* = new)
Artist
Track
Album
Comments
New
Approx. start time
New Order
True Faith
Substance
0:00:00 Real)
Morphine
Come Along
Bootleg Detroit
0:05:39 Real)
Girls on Top
We Don't Give a Damn about our Friends
The Best Bootlegs in the World
compilation
0:10:22 Real)
Dykehouse
Map. Ref 41 Degrees N 93 Degrees W
Idol Tryouts
compilation
0:14:20 Real)
T. Raumschmiere
Monstertruckdriver
Radio Blackout
0:25:56 Real)
The Scoundrelles
Why Doesn't Somebody Take this Goddam Girl Away from me?
Sympathetic Sounds of Toe Rag
compilation
0:28:53 Real)
Billy Squier
Who's Your Boyfriend?
Tales of the Tape
0:31:59 Real)
Eraldo Palmero
Funk da Virada
City of God REMIXED
0:41:15 Real)
The Speaking Canaries
Menopause Diaries
Get Out Alive
0:47:09 Real)
The Jesus & Mary Chain
Down on Me
Darklands
0:51:56 Real)
Deerhoof
Dummy Discards a Heart
Apple O
0:54:22 Real)
Freddy Fresh & His Orchestra
Don't Misunderstand Me
1:07:14 Real)
Andreas Doreau
Demokratie
Demokratie
re-issue
1:10:39 Real)
Dizzee Rascal/LFO
Freak Up, Look Sharp
MP3
remixed by Nicotinic
1:15:02 Real)
Bomb
Lucy in the Sky with Desi
1:21:39 Real)
Flaming Fire
Gun Through a Razor
Songs from the Shining Temple
1:33:12 Real)
Rasko
Peacemaker
La Guepe Vol. 4
compilation
1:35:52 Real)
2Raumwohnung
Ich und Elaine
DJ Kicks -- Tiga Remixes
1:39:24 Real)
The Black Keys
Hard Row
Thickfreakness
1:46:23 Real)
ZZ Top
Down at the Balinese
Fandango!
1:49:31 Real)
Six Eye Columbia
Casanova
Frowny Frown
1:59:14 Real)
Data Rock
I Used to Dance with my Daddy
Sonar 2003
compilation
2:02:40 Real)
Devo
Smart Patrol/Mr. DNA
Pioneers who got Scalped 2xCD
2:06:21 Real)
Go Home Productions
Blurred_it_all_Before
MP3
2:11:56 Real)
Blacktop
Tornado Love
Baaaad Feelin' About this...
2:29:34 Real)
The Streets
Don't Mug Yourself
2:32:04 Real)
The Fluid
Tin Top Toy
7"
2:34:35 Real)
Panjabi MC
Jogi
Beware
2:37:28 Real)
Pop O Pies
World o' Morons
Pop-O-Anthology
2:47:18 Real)
Kids Indestructible
Trans-Penine Express (extendo mix!)
Goooom
compilation
*
2:49:43 Real)
2:56:10 Real)
<-- Previous playlist
| Back to
Mike L. playlists
|
Next playlist -->
RSS feeds for Mike L.'s show:

Playlists feed |

MP3 archives feed
|
E-mail Mike L.
|
Other WFMU Playlists
|
All artists played by Mike L.
|
---
Listen on the Internet
|
Contact Us
|
Music & Programs
|
WFMU Home Page
|
Blog
|
Support Us
|
FAQ
Live Audio Streams:
Flash
|
128k MP3
|
32k MP3
|
20k Real
|
20k Windows
---