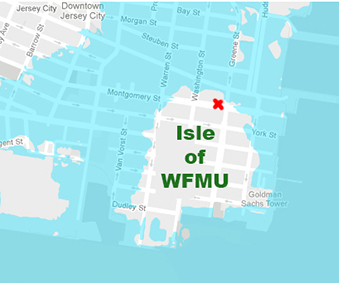 On the night of October 29th, 2012, WFMU finally understood – literally – what it means to be an island. The surge from Hurricane Sandy submerged much of Jersey City in a thick mix of saltwater and sludge, and for 12 hours, WFMU actually sat on an island off the coast of New Jersey.
But WFMU has always been an island, metaphorically speaking. Please help to keep our cultural barrier island solvent for another year by pledging to WFMU's 2013 Marathon.
The station doesn't belong to a larger radio network, we've never caved to commercial interests, and there's no endowment we can rely on during tough times. The station is fueled by volunteers, our programming is unapologetically freeform, and WFMU's continued survival is wholly dependent upon listener support.
Media business theory teaches us that a place like WFMU shouldn't exist. Not only does WFMU exist, it has become a model for adventurous lovers of radio and music worldwide. The heart of our success is you – the scores of dedicated listeners who take a stand for radio that doesn't suck during WFMU's annual fundraising Marathon.
Here's how you can help WFMU: