The day the music ended
Wednesday, May 30, 2001
By RICHARD COWEN
Staff Writer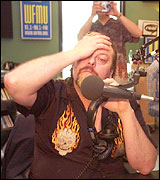 PETER MONSEES/THE RECORD


DJ Glen Jones showing exhaustion as he nears the end of his 100 hour on-air broadcast Tuesday.

Glen Jones stumbled away from the microphone and into the record books as host of the longest continuous radio broadcast Tuesday, four days after beginning his music marathon at WFMU-FM by spinning the show tune "The Impossible Dream."
The smooth-talking disc jockey had been reduced to a mumbling mess by the time the clock struck 1 p.m. in the station's Jersey City studio. One hundred hours and 40 seconds after he first went on the air, Jones managed to spin one final song -- Tom Waits' "Innocent When You Dream" -- before station manager Ken Freedman threw in the towel and led him away from the console.
He'd lasted a full day longer than the previous on-the-air record holder.
Soon it would be Dreamland for Jones. He raised his arm in triumph as he was led down the hallway and into a back room, where a mattress was spread across the floor. Jones belly flopped across it. The long show was over.
But like a record that keeps on skipping, Jones was back up only moments later, answering questions from the media in a voice that had been reduced to a rasp.
"In the end, I didn't know where I was," Jones said. "I was completely disoriented. I could see people's faces, but I couldn't remember who they were."
Jones, 39, began his stint behind the microphone Friday at 9 a.m., vowing to break the world record set by Greg Daines of the United Kingdom of 73 hours, 33 minutes. His stunt drew media attention from as far away as Japan to the tiny, listener-supported station.
The rules set down by the Guinness Book of World Records were strict. Jones had to announce every song he played, and no record could be more than six minutes long. He was allowed a 15-minute break every eight hours.
Two independent observers were with him in the studio at all times, charting his every move. Freedman said that WFMU (91.1) will now send the tapes to the Guinness Book of World Records for verification.
Jones, a Kearny native, has been a disc jockey at the station for 15 years. Like all the other WFMU jocks, Jones is unpaid, so he supports himself with a day job working for Court TV. His weekly radio show, with sidekick X-Ray Burns, airs every Sunday from noon to 3 p.m.
Jones said his music marathon was a tribute to the free-form radio format at WFMU that allows disc jockeys to play whatever they want -- no matter how obscure the artist or the record. It's an "anti-format format" that is used practically nowhere else in the New York area -- certainly not among commercial stations.
Over four days, he dug deep into the rock-and-roll vault, playing everything from Dean Martin to the Sex Pistols. Jersey-bred celebrities such as Steven Van Zandt of the E Street Band (and "Sopranos" fame) and gubernatorial candidate Bob Franks phoned in their best wishes. More than 100 fans held a rally for Jones in the parking lot Sunday.
Even Daines sent an e-mail congratulating Jones on breaking the record -- and said it was something he would never do again.
With an annual budget of only $550,000, WFMU is destined to remain a little radio station in a big market. The people who run the station were proud of Jones' four-day protest against commercial radio -- but were a little overwhelmed by all the media attention.
"Today, a lot of stations are just commercial outlets," said Brian Turner, the program director. "But Jones has a deep love of music. We are all proud of him."
All this, and no commercials.
"I wanted to do something that was in the spirit of free-form radio," Jones said. "Radio the way it should be. There was always another song to play. The music never let me down."
Jones said the darkest hours were right before dawn each day, when he would hit the wall of sleep. His body would say 'stop' but his mind said 'go.'
He says the hallucinations began Tuesday morning when he played the song "Crystal Blue Persuasion" by Tommy James and the Shondells. "I never heard that song sound quite the same way," Jones said.
Jones was hanging on waiting for a call from the president or Bruce Springsteen, neither of which came. He was fading fast throughout Tuesday morning, and by the time the gravelly voiced Waits began singing "Innocent When You Dream," Jones could barely talk, and couldn't stand on his own.
It was time to pull the plug. "I was a real mess in the end," Jones said. "But most times, I was really enjoying the music. In between major periods of exhaustion."
---