Tune in to Hova's archive for a guided tour of the bubblegum factory -- power pop, poppy punk, punky junk, and a little bit o' soul. In the words of Yogi Berra, it ain't Hova 'til it's Hova!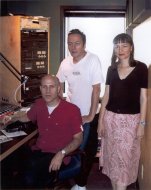 Late great punk legend Joe Strummer stopped by the WFMU studios on July 30, 2001, chatting with Hova about his album Global A Go Go (HellCat Records), sharing some musical goodies from his own eclectic collection, and reducing FMU's tough-to-impress staff to a quivering mass of star-struck jelly! From left: Hova, guest DJ Joe Strummer (in socks!), and the lovely and talented Belinda (Greasy Kid Stuff). Click on the picture for a larger version!

This picture was taken by renowned rock 'n' roll photographer Bob Gruen -- check out his website for more of his great pix!









Hova's Playlists!