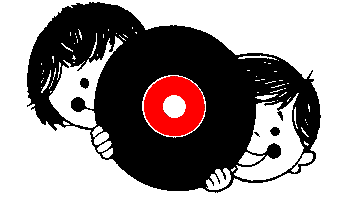 MAY 12, 2001 (click here to listen!)
THE DANDELIONS, "Greasy Kid Stuff"

"Optimistic Voices" (from The Wizard of Oz soundtrack)

[ARTIST UNKNOWN], "Sunny Sun Day"

DEATH BY CHOCOLATE, "If You Want To Sing Out, Sing Out"

EMMYLOU HARRIS, "Mister Sandman"

YOU ARE MY FLOWER, "You Are My Flower"

LEAD BELLY, "Pig Latin Song"

DAN ZANES & FRIENDS, "King Kong Kitchie"

JOHNNY CASH, "The Bug That Tried To Crawl Around the World"

ANDY GRIFFITH, "My Dog Underdog"

R. STEVIE MOORE with KRYS O., "Andy Griffith Theme"

SHELBY BRYANT, "Inchworm"

MAX & KATE'S REAL LIFE REVIEW: Mother's Day

SUPERNOVA, "Mommy"

CHAPPIE, "The International Chappie's Cheer-leading Team"

AL CAIOLA, "Baby Elephant Walk"

BILLY MAY, "Java"

SIR FINKS, "Spanish Flea"

PEREZ PRADO, "Tic Toc Polly Woc"

YMA SUMAC, "Bo Mambo"

PATTY BRANDON, "Calypso Parakeet"

GLORIA BALSAM, "Fluffy"

FATCAT & FISHFACE, "Gimmee"

THE HOLIDAYS, "Happy Birthday Polka"

HAPPY SCHNAPPS COMBO, "Pull My Finger"

BRAK & FREDDIE PRINZE JR., "Highway 40"

JAMES KOCHALKA SUPERSTAR, "Hockey Monkey

1000 CLOWNS, "Kitty Kat Max"

NOYZ TOYZ, "Caterwaul Cat and Her Singing Saw"

UNCLE RANDY: "Lance and the Astonishing Truth About the Weather, Pt. 2"

TOM GLAZER, "What Makes the Weather?"

NATALIE MERCHANT, MICHAEL STIPE, et al., "Little April Shower"

OOMPA LOOMPAS, "The Oompa Loompa Song"

PAT FACT: Quick Facts

LEILA with YO LA TENGO, "Route 66"

MARSHA GEE, "The Peanut Duck"


---
Back GKS main page| Back to other Greasy playlists