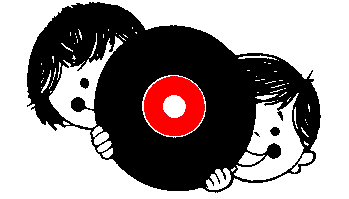 October 18, 1997
The Jack Mormons, "Greasy Kid Stuff"

Ella Fitzgerald, "Old MacDonald Had a Farm"

Louis Jordan, "Barnyard Boogie"

Bix Beiderbecke, "Krazy Kat"

Bonzo Dog Doo-Dah Band, "Jollity Farm"

Ed's Redeeming Qualities, "Scrambled Eggs"

Negativeland, "Perfect Scrambled Eggs"

Woody Guthrie, "Crawdad Song"

Strange Creek Singers, "Old Black Choo Choo"

Robbie Fulks, "Wedding of the Bugs"

Charles River Valley Boys, "Yellow Submarine"

The A-Bones, "Froggie Went A-Courtin'"

Pianosaurus, "Thriftshoppin'"

The Stool Pigeons, "Popsicles and Icicles"

"Dance the Slurp" (from Product Music, Vol. 1)

Montefiori Cocktail, theme from Star Trek

Perrey & Kingsley, "Swan's Splashdown"

Theme from The Jetsons

Bruce Haack (Jack Pine Savage), "O.K. Robot"

Pulsars, "My Pet Robot"

The Incredible String Band, "Cousin Caterpillar"

The Happiest Guys in the World, "Calling Planet Earth"

Big Wheel Popcorn, "Why (Grandpa)"

James Kochalka Superstar, "Rainbow Love"

The Happiest Guys in the World, "Hey! Hey! It's the Vegetable Man!"

The Phantom Surfers, "Ants in My Pants"

Man or Astroman? "Mystery Science Theater 3000 Love Theme"

"Bedrock Twitch," (from The Flintstones)

Jan & Dean, "Horace, the Swingin' School-Bus Driver"

Shonen Knife, "Twist Barbie"

Barry Louis Polisar, "For My Sister, Wherever I May Find Her"

800 Cherries, "Tibie and Me (Puppy Song)"

Jonathan Richman & the Modern Lovers, "Not Yet Three"

---
Back GKS main page| Back to other Greasy playlists