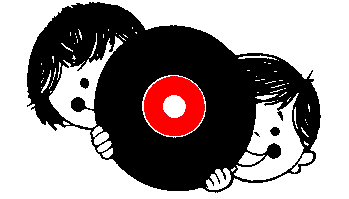 October 4, 1997
The Jack Mormons, "Greasy Kid Stuff"

Esquivel, "Tico Tico"

Spike Jones, "Hawaiian War Chant (Ta-Hu-Wa-Hu-Wai)"
"Hawaiian Roughrider" (from Songs of the Hawaiian Cowboy)

Frankie Laine & the Muleskinners, "Mule Train"

Moonshine Willy, "Skip to My Lou"

Grandpa Jones, "Old Rattler"

Woody Guthrie, "Hen Cackle"

Howard Finster, "Chicken Sounds"

The Nutley Brass & the Clucktones, "Chicken Impossible"

Edwin Astley and His Orchestra, "Secret Agent Man"

Happy Schnapps Combo, "Pull My Finger"

The Kabalas, "The Crossing Guard's Coffee Break"

Negativeland, "Over the Hiccups"

Kickstand, "I Rode in Saucers"

S.F. Seals, "Kid's Pirate Ship"

Big Wheel Popcorn, "Listen to Me (Listen to the Rain)"

The Beatle Barkers, "We Can Work It Out"

The Beatles with Tony Sheridan, "My Bonnie"

The Go-Nuts, "Snik Snak Skaduliak"

The Phantom Surfers, "Ants in My Pants"

Mac & Katie Kissoon, "Chirpy Chirpy Cheep Cheep"

The Stool Pigeons, "Popsicles and Icicles"

Pinkerton's Colours, "Magic Rocking Horse"

The Autumn Leaves, "Magic Red Raincoat"

The Minus 5, "Popsycle Shoppe"

Louis Prima and Keely Smith, "Nyow! Nyot Nyow! (The Pussycat Song)"

The Clean, "Tally Ho!"

NRBQ, "Encyclopedia"

Trout Fishing in America, "The Window"

Al Herda, "Fuzzy Wuzzy"

Professor Longhair, "Everyone's Blowing"

Paul Revere & the Raiders, "Beatnick Sticks"

The Blasters, "Buzz Buzz Buzz"

Homer & Jethro, "Does the Chewing Gum Lose Its Flavor (On the Bedpost Overnight)"

Pizzicato Five, "My Baby Portable Player Sound"

The Monkees, "Peter Percival Patterson's Pet Pig Porky"


---
Back GKS main page| Back to other Greasy playlists