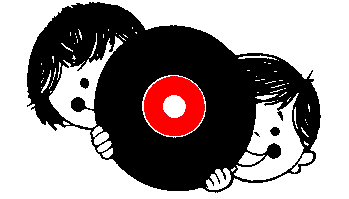 MAY 19, 2001 (click here to listen!)
THE DANDELIONS, "Greasy Kid Stuff"

MISTER ROGERS, "You Are Pretty"

SHIRLEY TEMPLE, "You Gotta Eat Your Spinach, Baby"

ALFRED E. NEUMAN, "It's a Gas"

ED WYNN, JULIE ANDREWS & DICK VAN DYKE, "I Love To Laugh"

DANIELA GOGGI, "Supercalifragilistic-espiralidoso"

LOS LOBOS, "I Wan'na Be Like You (The Monkey Song)"

CHUCK HIGGINS, "Bug Jump"

TONY HARRIS, "Chicken, Baby. Chicken"

JESSE STONE, "Oh That'll Be Joyful"

R. STEVIE MOORE with KRYS O., "Horse in Striped Pajamas"

LEILA ROSENTHAL with YO LA TENGO, "Route 66"

TROUT FISHING IN AMERICA, "The Window"

THE BEACH BOYS, "Vegetables"

THE TURTLES, "Food"

THE LORRAINE BOWEN EXPERIENCE, "Crumble Song"

FATCAT & FISHFACE, "You Are What You Eat"

THE DU-TELS, "Shortening' Bread"

1000 CLOWNS, "Kitty Kat Max"

SMACK DAB, "Sitting in a Pickle"

ARLO GUTHRIE, "The Motorcycle Song"

FATCAT & FISHFACE, "Gimmee"

THE BONZO DOG BAND, "Jollity Farm"

EDDIE WARNER, "Funky Kid"

PAT FACT: Toilet Facts

THE JAZZ BUTCHER, "Water"

NOYZ TOYZ, "Dolittle Computer"

"Walt Disney World Main Street Electrical Parade"

BUBBLE, "Pure Imagination"

UNCLE RANDY: "Lance and the Tiny People in His Eyes"

THE COUNTRY GENTLEMEN, "The Sunny Side of Life"

ALLAN SHERMAN, "The Laarge Daark Aardvark Song"

THE BLACK LODGE SINGERS, "Flintstones"

MICHAEL SHELLEY, "That's Where the Plaque Is"


---
Back GKS main page| Back to other Greasy playlists