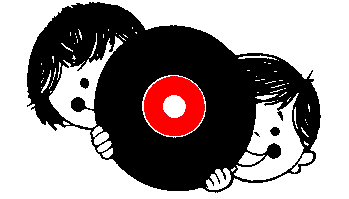 MAY 5, 2001 (click here to listen!)
THE DANDELIONS, "Greasy Kid Stuff"

COOKIE MONSTER & THE GIRLS, "C Is for Cookie"

THE VILLAGE SOUL CHOIR, "Sesame Street"

MARSHA GEE, "The Peanut Duck"

TONY BURRELLO, "The Sound of Worms"

FATCAT & FISHFACE, "You Are What You Eat"

ABBA BABB!, "Abba Babb!"

RUSTY CANYON, "Banana -- What a Crazy Fruit!"

THE APPLES IN STEREO, "Signal in the Sky (Let's Go)"

CUB, "Magic 8 Ball"

JAMES KOCHALKA SUPERSTAR, "Monkey vs. Robot"

SUPERNOVA, "Mommy"

THE POM-POMS, "Itsy Bitsy Teeny Weeny Yellow Polka Dot Bikini"

MAX & KATE'S REAL LIFE REVIEW: Significant Records

RICK SCHULMAN, "The Ballad of Gumby"

HAPPY SCHNAPPS COMBO, "Pull My Finger"

SPIKE JONES, "William Tell Overture (Beetlebaum)"

UNIT 3 with VENUS, "B.O.Y.S"

DANIELLA GOGGI, "Lavorare Che Fatica" (work song)

LOUIS PRIMA, "I Wanna Be Like You

THE HOPPIN' HAOLE BROTHERS, "Monkey's Brain"

FATCAT & FISHFACE, "Gimmee"

MODERN LOVERS, "I'm a Little Dinosaur"

[UNKNOWN RAPPER], "Rugrat Rap"

THE COASTERS, "Yakety Yak"

BO DIDDLEY, "Let the Kids Dance"

UNCLE RANDY: "Lance and the Astonishing Truth About the Weather, Pt. 1"

TOM GLAZER, "What Makes the Weather?"

SOUPY SALES, "The Soupy Shuffle"

ELVIS PRESLEY, "How Would You Like To Be"

BOB THE BUILDER, "Can We Fix It?"

DRESSY BESSY, "Bubbles"

THE POWERPUFF GIRLS, "Love Makes the World Go 'Round"

BIS, "The Powerpuff Girls" (end theme)

JAMES KOCHALKA SUPERSTAR, "Hockey Monkey"

PAT FACT: Vacuum Cleaners


---
Back GKS main page| Back to other Greasy playlists