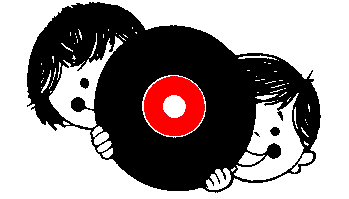 APRIL 14, 2001 (click here to listen!)
DEATH BY CHOCOLATE, "If You Want To Sing Out, Sing Out"

KATE JACOBS, "A Sister"

THE CARDIGANS, "Rise and Shine"

DEB HIETT-BORGIA, "Don't Be Afraid of the Stupid"

THE APPLES IN STEREO, "Signal in the Sky (Let's Go)"

JULIANA HATFIELD & TANYA DONELLY, "Josie and the Pussycats"

ALLAN SHERMAN, "Rraattffiiinnkk"

THE GOLDDIGGERS, "An A-Flat Cricket and a B-Flat Frog"

MAX & KATE'S KITCHEN: Scary Things & Phobias

BILL MORRISEY, "It's Dangerous Out There"

THE OOMPA LOOMPAS, "Oompa Loompa Song" #1

FATCAT & FISHFACE, "You Are What You Eat"

THE OOMPA LOOMPAS, "Oompa Loompa Song" #2

THE COUNTRY GENTLEMEN, "The Sunny Side of Life"

HOMER & JETHRO, "Daddy Played First"

SALLY TIMMS, "Hush Little Baby"

THE WACO BROTHERS, "Geronimo"

JON LANGFORD, "The Nanny Song"

THE WACO BROTHERS, "Them Bones"

THE MEKONS, "Oranges and Lemons"

FATCAT & FISHFACE, "Gimmee"

BOB THE BUILDER, "Can We Fix It?"

THE QUEERS, "I Don't Want To Live On the Moon"

SHONEN KNIFE, "Strawberry Creampuff"

THE MR. T EXPERIENCE, "Up and Down"

MOLDY PEACHES 2000, "Little Bunny Foo Foo"

DQE, "Go Bananas!"

GENE AUTRY, "Here Comes Peter Cottontail"

DEE JAY & THE RUNAWAYS, "Peter Rabbit"

SICKO, "A Song About a Rabbit"

THE NIGHTCRAWLERS, "Little Black Egg"

JUDY GARLAND & FRED ASTAIRE, "The Easter Parade"

MS. VEE, "Rap Nursery Rhyme Medley"

G. LOVE & SPECIAL SAUCE, "Milk and Cereal"

SCHOOLLY D, "This Old Man"

THE SHRINKY DINKS, "Fee Fi Fo, Fee Fi Fum"

PAT FACT: Fast Facts


---
Back GKS main page| Back to other Greasy playlists