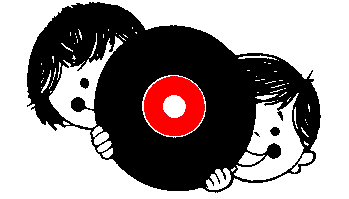 APRIL 7, 2001 (click here to listen!)
THE DANDELIONS, "Greasy Kid Stuff"

LEAH ROSE, "Howling At the Earth"

CALL AND RESPONSE, "Rollerskate"

EGGSTONE, "Water"

THE LORRAINE BOWEN EXPERIENCE, "Crumble Song"

ANGIE, "Peppermint Lump"

DIM DIM, "Lucky Cowboy"

CHET ATKINS, "Centipede Boogie"

JOE MAPHIS, "Twin Banjo Special"

DAN ZANES & FRIENDS, "Keep On the Sunnyside"

TONY BURRELLO, "The Sound of Worms"

ART PAUL SCHLOSSER, "Have a Peanut Butter Sandwich"

THE VESTIBULES, "Bulbous Bouffant"

THE STINKY PUFFS, "I Am Gross! No You're Not!"

JAMES KOCHALKA SUPERSTAR, "Monkey vs. Robot"

JAMES KOCHALKA SUPERSTAR, "Ben the Stupid Brontosaurus"

JAMES KOCHALKA SUPERSTAR, "Why Can't We All Be Carrot Boy?"

JAMES KOCHALKA SUPERSTAR, "Hockey Monkey"

THE AQUABATS, "Giant Robot-Birdhead"

DEVO, "Peek-a-Boo"

GENE KELLY & FRANK SINATRA, "Take Me Out To the Ballgame"

ABBOTT & COSTELLO, "Who's On First?"

ASHTRAY BOY, "Rupert the Bear"

FATCAT & FISHFACE, "Gimmee"

BRIAN WILSON & ANDY PALEY, "Saturday Morning in the City"

BRAK, "Highway 40 Unplugged"

GENE AUTRY, "Here Comes Peter Cottontail"

"The Powerpuff Girls" (main title)

THE POWERPUFF GIRLS, "Love Makes the World Go 'Round"

CREATIVE CONCEPTS CHILDREN'S CHORUS, "Rock Is the Music"

TROUT FISHING IN AMERICA, "The Window"

IVOR CUTLER TRIO, "Good Morning! How Are You? Shut Up!"

GLORIA BALSAM, "Fluffy"

THE BIG BOPPER, "Purple People Eater Meets the Witch Doctor"

EDDIE ANGEL & THE OMEGA MAN, "Frankie's Groovy Monster Boots"

MICHAEL SHELLEY, "Rollo"


---
Back GKS main page| Back to other Greasy playlists