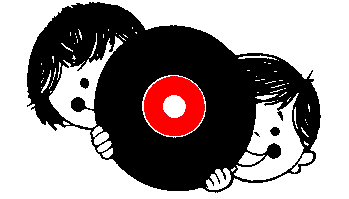 FEBRUARY 17, 2001 (click here to listen!)
THE DANDELIONS, "Greasy Kid Stuff"

DOKTOR KOSMOS, "L.S.A.T.T."

PERREY & KINGSLEY, "Baroque Hoedown"

BRIAN DEWAN, "Free Lunch"

PERREY & KINGSLEY, "Mas Que Nada"

BRIAN WILSON & ANDY PALEY, "Saturday Morning in the City"

BRAK, "I Love Beans"

THE VESTIBULES, "Bulbous Bouffant"

DEATH BY CHOCOLATE, "If You Want To Sing Out, Sing Out"

THE ELEPHANT ORCHESTRA, "Thung Kwian Sunrise"

MAX & KATE'S REAL LIFE REVIEW: "InkLink"

HALF JAPANESE, "Inky and Winky"

ERIC FELDMAN, "Worms"

ALFRED E. NEUMAN, "It's a Gas"

THE HOLLYWOOD FLAMES, "Buzz-Buzz-Buzz"

DUANE EDDY, "Peter Gunn Theme"

FATCAT & FISHFACE, "Gimmee"

THE BANANA SPLITS, "Doin' the Banana Split"

DQE, "Go Bananas"

JUNIOR VARSITY, "Two Scoops"

GROOVIE GHOULIES, "Let's Go To the Moon"

THE QUEERS, "I Don't Want To Live On the Moon"

TAKAKO MINEKAWA, "Fantastic Cat"

HAMPTON THE HAMPSTER, "The Hampsterdance Song"

LEADBELLY, "Pig Latin Song"

LEADBELLY, "When a Man's a Long Way From Home"

BEN RUDNICK & FRIENDS, "Cowgirl Song"

DAN ZANES & FRIENDS, "King Kong Kitchie"

BARNES & BARNES, "Fish Heads"

CAMPER VAN BEETHOVEN, "Take the Skinheads Bowling"

PAT FACT: 100th Anniversary of the License Plate


---
Back GKS main page| Back to other Greasy playlists