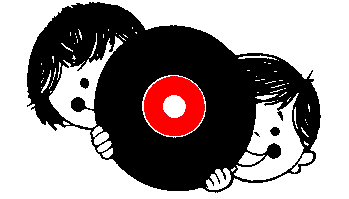 SEPTEMBER 16, 2000 (click here to listen!)
(Auntie Tamar & Uncle Rich fill in!)

ANDRE POPP, "La polka du colonel"

THE FREE DESIGN, "Bubbles"

THE ARCHIES, "Inside Out, Upside Down"

WHISTLING JACK SMITH, "I Was Kaiser Bill's Batman"

"I Am the Very Model of the Modern Major General" (from The Pirates of Penzance)

BERT LAHR, "If I Were King of the Forest"

MEL BROOKS, "It's Good To Be the King"

BRAK, "I Love You, Baby"

THE PEANUTS, "Mothra Song"

YMA SUMAC, "Babalu"

KENT BOWMAN, "Goldilocks and the Three Bears" (Hawaiian dialect)

ROGER ROGER, "Danse Lunaire"

[A MAROON & YELLOW MONSTER], "Fur"

KAREN MANTLER, "Shedding"

THE BEATLE BARKERS, "We Can Work It Out"

THE NUTTY SQUIRRELS, "A Hard Day's Night"

FRANCO GODI, "Fish Song"

DIM DIM, "Love Serenade"

Y'ALL, "God Bless New York City (My Big Apple Pie)"

HANS CONREID, "Happy Birthday to You"

THEY MIGHT BE GIANTS, "It's Not My Birthday"

BRIAN HYLAND, "Itsy Bitsy Teeny Weeny Yellow Polka Dot Bikini"

THE DETERGENTS, "Leader of the Laundromat"

HANS CONREID, "The Dressing Song (Do-Mi-Do Duds)"

MR. BURNS, "See My Vest"

HANK THOMPSON, "Abdul Abulbul Amir"

PETE SEEGER, "Sam the Whaler"

ALLAN SHERMAN, "I See Bones"

THE KAZOOZ BROTHERS, "Soul Man"


---
Back GKS main page| Back to other Greasy playlists