The LCD Rock and Roll Guide To London
by Dave Mandl
Art by Omar Sanchez

Deny it if you like, but I believe the statistics will back me up here: If you're a white American male born between 1950 and 1961 visiting London for the first time, chances are very good that your first words there will be: "Taxi - Abbey Road, and hurry!" - whereupon you'll spend the next half an hour taking snapshots of yourself at that damn crosswalk, possibly barefoot, while your wife and nine-year-old daughter die of embarrassment nearby. Pathetic - especially since there are so many other rock and roll fantasies that the male American baby boomer can live out here. So, on that Leslie-tinged note, LCD brings you its own guide to musical London.
Archway Tavern/Retcar Street Kinks: The Kinks probably wrote more songs about London than all other bands combined. Shame about the two North London photos on the Muswell Hillbillies cover, though: The inside of the Archway Tavern, pictured on the front, has been renovated beyond recognition; even worse, nearby Retcar Street, pictured on the inside ("Cats on Holiday"), has been demolished. It's not even on the map anymore.
"Itchykoo Park" Small Faces: Yes, it's a real park, unbeknownst to most Londoners,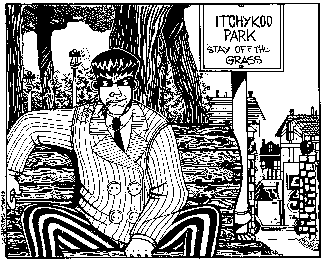 located near Aldgate East in the East End, and it's still there. (The name, however, is unofficial, allegedly coined by locals due to the constant presence there of flea-ridden tramps.) In the '60s it was used mostly for the purpose outlined by Marriott and Co. in the song.
Rainbow Theatre: The famous '70s rock venue (remember Eric Clapton's Rainbow Concert?) can be found in the middle of residential Finsbury Park. (For comparison, imagine the Fillmore East located in, say, Canarsie.) Though the theater has been out of action for a while now, the "Rainbow" sign is still hanging outside. It's dwarfed, however, by a banner ten times its size proclaiming, "JESUS CHRIST IS THE LORD." That's right, the space is now occupied by Brazilian Pentecostalists and their Universal Church of the Kingdom of God.
Lester Square, Monochrome Set: Thank the former Monochrome Set guitarist for saving you from embarrassment and ridicule by adopting this phonetic spelling of Leicester Square as his nom de plume: No, it's not pronounced "Lie-ches-ter," Yankee. As for the place itself, picture the corner of 44th and Broadway on New Year's Eve, then triple the size of the crowd. Underage schoolgirls out for a good time, wearing clothes two sizes too small, tend to dominate the area, along with lots of good used bookstores and pastry shops.
"As I did walk by Hampstead Fair..." Jethro Tull, "Mother Goose": The greatest London song on record, but that's a subject for another article. (Magazine editors: Please contact me c/o LCD.) This refers to either the annual Easter fair in Hampstead or, better yet, some long-forgotten medieval event in the area. In any case, Hampstead's still a medieval village on a hill, with wonderfully atmospheric, maze-like streets. The eccentrics named in the song are gone now (and replaced by cultured high-bourgeois types), but it's still one of the most picturesque parts of the city. A short walk from Hampstead Heath and beautifully decrepit Highgate Cemetery (best known as the site of Karl Marx's grave).
Barbican Centre: Every major band has performed or recorded at this multi-tentacled concert hall/arts center/housing complex/university/conference center/parking garage, so it's hard to avoid. That doesn't change the fact that not only is it the most hideous piece of architecture in Europe, possibly the world, but even Londoners with a good sense of direction can require up to 45 minutes to find anything within its sprawling, poorly labeled walls. Everyone else should arrive at least an hour and a half before showtime. Good luck.
Carnaby Street, W1: Like St. Marks Place, but with a much smaller selection of rock T-shirts and silly rock and roll jewelry. Nope, it's not 1966 anymore. Avoid.
"Waterloo Sunset" Kinks: The second-greatest London song on record. I'd recommend visiting the area an hour or so after sunset. When it's dark you can see the world's most beautiful skyline from the perfect vantage point - Waterloo Bridge.
"Holloway Jail" Kinks: An actual women's prison located in Holloway, N7.
"...owns a block in St. John's Wood" Rolling Stones, "Play With Fire": The only person I've known who lived there was a wealthy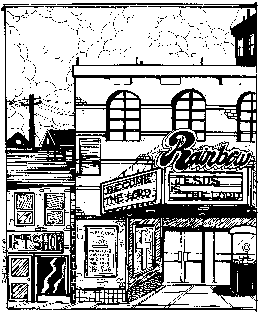 American Wall Street exec, probably typical, considering the astronomical home prices and because the elite American School is nearby. The neighborhood is also the home of the Zen Centre, an old haunt of Alan Watts and several spiritually aware pop musicians I've met. (See also: Abbey Road).
King's X, pronounced "King's Cross": I have no idea whether the American Christian band takes its name from this neighborhood, but it'd be poetic justice if it did, as it's one of the seediest, most drug- and hooker-ridden sections of London.
"The Battle of Epping Forest" Genesis: A colorful account of a gang war over East End protection rights, allegedly based on a real newspaper story. I haven't a clue what it has to do with Epping Forest, an actual forest on the edge of northeast London. It was probably best known in the '80s as the site of the anarcho-punk band Crass's commune.
Abbey Road, NW8: The quiet intersection outside a recording studio in leafy St. John's Wood that's probably more photographed than the Grand Canyon. If the authorities charged 50p for the privilege, the Brits could have bought Switzerland by now. Even Sir Paul himself couldn't resist the temptation to go back to the scene of the crime for one more photo op, ca. 1989. While you're here, don't miss McCartney's house at 7 Cavendish Avenue (see below).
"Portobello Road" Cat Stevens: Wish I could report that this street is still the hippie market paradise it was in '65. It's still lined with antique stores, decent record shops, maybe a handful of tearooms, but you'll have to climb over thousands of sightseers to get near them. The neighborhood, Notting Hill, was already well gentrified by the early '90s, but the nail in the coffin was undoubtedly the eponymous film, which brought a huge new wave of gawkers to the area, apparently hoping to spot Julia Roberts. Duh.
"Thinking about the old days of Liverpool and Rotherhithe" Elvis Costello, "New Amsterdam": Rotherhithe is the South London port that the Mayflower sailed from (hence the New Amsterdam connection). The song's following couplet ("Transparent people who live on the other side/Living a life that is almost like suicide") was interpreted by a North London friend of mine as a typical snipe against the much-abused residents on the wrong bank of the Thames, but it's probably just a reference to the dismal decay and unemployment in this once-thriving dockside area.
"'A' Bomb in Wardour Street" The Jam: Socially concerned punk dystopianism notwithstanding, this hasn't been the site of Armageddon yet (though some shithead with a nail bomb did kill three people in a gay bar on nearby Old Compton Street last year). Wardour Street is in Chinatown and New Yorkers please note: London's Chinese restaurants charge extra for rice. Wardour Street was also the home of '60s rock mecca the Marquee Club.
34 Montague Square: Along with Macca's house on Cavendish Avenue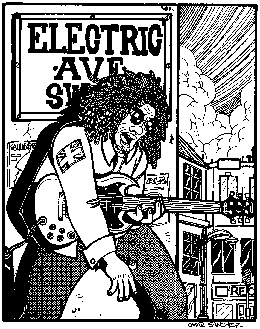 (just a short walk from Abbey Road, St. John's Wood), this building is a staple of the 300 Beatles walking tours going on at any given time in London. As your tour guide will tell you, it was the site of Ringo Starr's legendary basement flat, once rented to Jimi Hendrix and Chas Chandler, who were later thrown out by Ringo for trashing the place. John and Yoko took their nudie Two Virgins photos there and got busted for cannabis possession on the premises, too. Finally, poor Ringo's lease got cancelled.
Made Available This Heat: The obvious pun here was pointed out to me only recently. Maida Vale is the West London neighborhood where John Peel's legendary "Peel Sessions" are recorded, not far from the lovely canals of Little Venice and (groan) St. John's Wood.
"(I Don't Want to Go to) Chelsea" Elvis Costello and "Parties in Chelsea" Television Personalities: Very rich people, very beautiful old houses. Chelsea (and its main drag, King's Road) has also been the playground for several generations of fashionable young bohos, from the '60s dolly birds (Anita Pallenberg still lives there) to the Sex Pistols (Vivienne Westwood's shop is still there). These days, however, the hip young pop stars are long gone.
"The Guns of Brixton" The Clash: With urban-combat fatigues and fists in the air, the Clash had no trouble deciding where to set their class-war anthem. Working-class and racially diverse, Brixton was the site of many all-too-real battles with riot police in the dark days of Thatcherism. Electric Avenue (Eddy Grant) is also in Brixton.