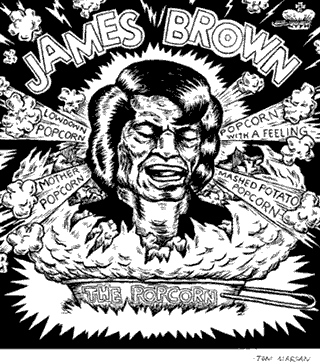 Popcorn Unlimited
By Douglas Wolk



James Brown is, of course, the Amazing Mr. Please Please Himself, the Godfather of Soul, the Hardest Working Man in Show Business. But, as he sang, "There Was A Time" (specifically in the fall of 1969) when he saw what looked like his biggest opportunity ever, and devoted the not-inconsiderable resources of his not-inconsiderable crew toward the goal of his immortality-as the architect of the Popcorn.

The first hint of Popcornitude turned up in January of 1968, with the release of an inconspicuous instrumental single called "Bringing Up The Guitar," credited to the Dapps featuring Alfred Ellis. The Dapps were the all-white funk band Brown had fronted on his gigantic hit "I Can't Stand Myself When You Touch Me," though it's not terribly clear if they were the Dapps on this particular record. (Brown tended to throw that name around a lot. The classic 1970 band including Bootsy Collins that recorded "Sex Machine" and "Soul Power," for instance, recorded an unreleased single, "More Mess On My Thing," under the name The New Dapps.) Alfred "Pee Wee" Ellis played sax on most of JB's mid-'60s hits; "Bringing Up The Guitar" itself was basically just an extension of the "Cold Sweat" beat, featuring a decent sax solo, a guitar playing octaves on a pentatonic scale, a little walking-upward bass figure, and the band chanting "c'mon! yeah!" Not much to it but the groove.

Brown started doing a little dance to "Bringing Up The Guitar" on stage, and it caught on. He called the dance the Popcorn, and in late August, 1968, the band re-recorded the instrumental as "The Popcorn" (credited to James Brown Plays & Directs). In fact, he wasn't playing, though he can be heard yelping a little; this time, Ellis switched to organ, and Maceo Parker contributed a smoking, curlicuing tenor sax part. It's not quite as crisp or funky as the first version, but when it was released in May 1969, it clicked, going to #11 on the R&B chart.

Now, let's backtrack a little. In January of '69, he'd recorded a song called "You Got To Have A Mother For Me," the first blatant lyrical indication of what an ass-man he is. (It got a little more blatant later on with "Hot Pants"; a decade later, he was recording "For Goodness Sakes, Look At Those Cakes.") It had a great, insistent groove, and was originally scheduled to be a single in March, but got yanked in favor of "I Don't Want Nobody To Give Me Nothing (Open Up The Door, I'll Get It Myself)," which had the twin advantages of better politics and a longer title. JB, not one to waste the funk, eventually used the instrumental track on his 1970 instrumental album Ain't It Funky, under the name "Use Your Mother," and also considerately gave it to Bobby Byrd for his 1970 single "I Need Help (I Can't Do It Alone)."

When "The Popcorn" clicked, though, the Godfather moved-fast. (This, please note, was in a year when he released 13 singles and 4 albums, and that's just counting the ones under his own name.) On May 13, he hybridized the words of "You Got To Have A Mother For Me" with the basic groove of "The Popcorn," and came up with "Mother Popcorn," one of the most monstrously funky records ever made. I will, in fact, nominate Clyde Stubblefield's cymbal smash four minutes or so into it as the single greatest instant in the history of recorded sound. Released in June, "Mother Popcorn," despite its weird title, became a humongous hit: #1 on the R&B charts, #11 pop.

Now, James Brown was not a man to linger on his successes; he'd record the same song over and over, a few years apart, but he was too busy making his groove evolve to stick with a formula. But something about the Popcorn was different. A month to the day after he recorded "Mother Popcorn," he was back in the studio, recording the instrumental "Lowdown Popcorn." It frankly didn't bear much relation to the Popcorn groove, other than its cyclical walking bass part, but that didn't matter: you could do the dance to it, after all. (Well, you could do the dance to anything, actually.) It wasn't one of Brown's best instrumentals, but it still went to #16 on the R&B charts when it came out in August.


After that, all bets were off. Brown had a huge revue he traveled with; there was always a woman singer, whose job was to sing backup, warm up the crowd (usually with a short set that ended with "People"), and generally do the diva thing. In the fall of 1969, that was Vicki Anderson (the wife of Brown's longtime right-hand-man Bobby Byrd). In an attempt to cover the potentially lucrative answer-song market, he assigned her "Answer To Mother Popcorn (I Got a Mother For You)," and she co-wrote and sang the living hell out of it. It came out in September, and it wasn't a hit, but it's become a collectors' favorite, with an amazing screaming-diva vocal and a magnificently tense groove.

Then there were various also-rans, has-beens and wanna-bes who sang with the Brown revue and generally took shelter under his wing. R&B organist Bill Doggett had had a great big hit in the '50s with "Honky Tonk," which Brown covered a few times in various guises; in September, Doggett released a new, Brown-produced version of "Honky Tonk," backed with "Honky Tonk Popcorn"-the latter with a composition credit reading James Brown. Charles Spurling came up with "Popcorn Charlie," and semi-fallen '50s star Hank Ballard had a fabulous little stop-start blaster called "Butter Your Popcorn," which he couldn't quite sing in tune. Classic opening: a smarmy woman's voice says "Mr. Ballard-may I help you with something?" (Crack!) "Butter your popcorn! Come on, children!"

(Those curious about the Brown-Ballard connection should also track down JB's 1972 album Get On The Good Foot, with its drunken six-minute "Recitation by Hank Ballard": "Yeah, I got caught running around in the graveyard of losers! But I had an unshakeable determination... and I was coming out... out of my place, you know... so I came out and joined the James Brown productions. James was the only one besides myself that had a strong belief in my talent. I knew he could formulate a groove that could put my star back in this galaxy, you know... James Brown world! James Brown world of music! And wow, I'm glad I'm part of his world...")

Brown did his part to fuel the not-terribly-genuine craze on his own, too, releasing the LPs The Popcorn (all instrumentals) and It's A Mother. The latter appears to have been assembled in a hell of a hurry-"You're Still Out Of Sight" is actually sung by somebody else who has a voice kind of like Brown's. Fortunately, the album also includes the two-part "Mashed Potato Popcorn," which sounds a little starchy but is really just fine, and "Popcorn With A Feeling," which has a really unfortunate flute part.

In October, he followed it up with "Let A Man Come In And Do The Popcorn," one of the strongest singles of the entire series, with a fabulous, sneaky beat; it had been recorded the same day as "Mother Popcorn," in fact. The title is fairly arbitrary-Brown had kind of given up on the idea of choruses and vocal hooks by that point-though he does mention the Popcorn twice in its lyrics (the title never appears in its entirety). It was another great big hit, going to #2 on the R&B charts, so he had a brilliant idea for the follow-up, released in November: "Part Two (Let a Man Come in and Do the Popcorn)," not a single but literally the second part of the same take, starting with 30 seconds of a different vamp and then going back to the one from Part One. This one mentions neither the Popcorn nor men coming in, though Brown does yelp "Gonna give you a taste of Part Two!"

That was the last of the original round of Popcorn songs, though the name of the album containing "L.A.M.C.I.A.D.T.P.," released in June 1970, combined its title with a another contemporaneous hit for the mindboggling result: It's A New Day-Let A Man Come In. (The opener of 1971's live Revolution Of The Mind album is actually just the former, but it's credited as "It's A New Day So Let A Man Come In And Do The Popcorn.")

The theme had one final moment of glory, though. Maceo and the Macks' "Parrty," [sic] released in August 1973 on Brown's label People Records (they were actually just his band, with Maceo Parker getting a taste of glory for a change). It's simply a remake of "The Popcorn," with the band chanting "parrr-TY! parrr-TY" over it. Also released on People, a little later that fall, were Lyn Collins' soul simmerer "We Want To Parrty Parrty Parrty" and a fun little stomp by Fred Wesley and the JB's called "If You Don't Get It The First Time, Back Up And Try It Again, Party." One assumes that there simply wasn't room on the label for the extra R.