After reading this, perhaps YOU will care enough to consider saving these records from the trash heap when you see them.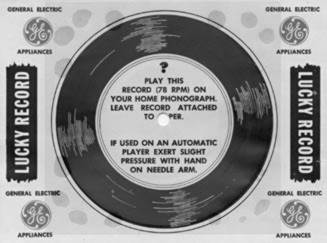 It might surprise you to know that the first records ever made were flexis! When Thomas Edison built the first phonograph, it used sheets of tin foil that were wrapped around the mandrel and recorded directly on the machine. Theoretically, one could then unwrap the sheet from the player to be put on another phonograph. TUCKS manufactured postcards starting in 1905 with records attached to the front so the receiver could read as well as hear them. DURIUM mass manufactured paper records in the 30ís called "Hit of the Week" which were sold at newsstands. These are a favorite novelty record among flexi collectors and 78 enthusiasts as well. They also made advertising records as small as four inches that were mailed directly to potential customers in a given area. These have a deep brown shiny playable side and a pinkish plain paper side that was blank or could include print or pictures.
Click picture for a larger version
Record books were another interesting format that were made as early as the 40ís though to the 70ís. With these, the cover (or pages) would have a record and by placing the entire book on your turntable, you could hear it as well as see it. This was a successful product for the JOHN C WINSTON CO. which produced 20 or so "Magic Talking Books" for children in the late 50ís. ECHO was a magazine that was produced in 1949 for adults featuring contemporary artists, lots of info about them and picture flexi records for some of the pages. I have volume one and have never seen any other volumes, probably because it was a complete failure. Many folks remember the great flexis that came in the pages of MAD magazine. Many kids drove their parents crazy with "Its a Gas" until it was completely worn out.
AURAVISION, which was a division of Columbia records manufactured records on baseball cards in the 60ís and also made many records that accompanied toys for a personal play soundtrack. They were usually a paper core with a laminated record sheet bonded to the surface. The records were clear so that the message printed on the paper could show through and come across perhaps louder than sound itself. They also used this format for self promotion of their record clubs through direct mail campaigns and magazine record inserts. If you have a FLEXIPOP record which are made out of the nice translucent plastic material made famous by EVA-TONE (the undisputed flexi manufacturing king), then you have a good shot at getting it to play. Records made by this company always carried their logo and if a printed message was to accompany the record, it was usually stapled to the edge and placed behind the record. They also produced a folder format so that you could read all the information, then fold it in a certain way so the entire package would be on your turntable.