From the '30s through the '50s there had been countless movies with singing cowboys, rural appeal comedies (usually from Republic), sometimes with some big country stars (Roy Acuff, Ernest Tubbs, Eddy Arnold) and cowboy movies with western swing stars (Bob Wills, Spade Cooley). The first high profile country musicals were as much about rock and roll (Country Music Holiday) and folk music (Hooteanny Hoot) as they were about country. 1964 to maybe '66 were the golden years for real country music musicals. Most of these features are gold mines of performance footage. Whether they're "good" movies or not simply doesn't matter. These are often the only opportunities to see the greats of modern country music in their prime. Also, though most of these features used lip-synched performances, the pre-recorded tracks are often different than the common hit or LP versions.
In '58, the year that Billboard finally started a Hot Country & Western Sides chart, Paramount released COUNTRY MUSIC HOLIDAY. Ferlin Husky stars as Vern Brand, a small town Tennessee singer who faces the temptations of big evil Manhattan. He sings seven songs, all mediocre and written for the movie (some are by Hal David and Burt Bacharach!). Obvious Elvis connections (Paramount was Presley's studio at the time) include Vern being in the army and his TV star rival Clyde Woods (played by Faron Young), selling out to be an embarrassing Elvis type. The best (rockabilly influenced) songs are by Presley's back up singers, The Jordinaires, ("Ruby") and The Ladell Sisters, an obscure trio who do a pretty wonderful "Wang Dang Do." Other tunes are by comic Grand Ole Opry stars Lonzo and Oscar and Drifting Johnny Miller, a one man band. June Carter plays Vern's adoring gal back home. The unfunny comedy team of Al Fisher and Lou Marks (from 1957's Mr. Rock & Roll) play his managers, Rocky Graziano and Jesse (TV's original Maytag repairman) White run the record company and Zsa Zsa Gabor (as herself) wants to know all about that "American peasant music."
The next (part) country musical was HOOTENANNY HOOT ('63), a Sam Katzman production from MGM. It centers on jaded, fast talking New York TV director Ted (Peter Breck) who decides to broadcast a small town "Missouri Hootenanny Circus" show. This awkward movie must be where the Stones got the idea for their Rock And Roll Circus five years later. One folk act (The Gateway Trio) actually sings while bouncing on a trampoline! The (more or less) country acts are Sheb Wooly (several songs), Johnny Cash ("Frankie and Johnnie"), and George Hamilton IV (the classic "Abilene"). They're mixed in with other folk acts (including The Brothers Four and the black duo Joe and Eddie) and the incredible, deep- voiced Judy Henske, who easily steals the show. She does the twist while singing "Wade in the Water" in the circus tent, and sings the stirring "Ballad of Little Romy" (the kind of old-time murder ballad Fairport Convention would later record) while in a bathing suit. Too much time is spent on Ted's relationships with the ringmaster (Pamela Austin) and his ex-wife/boss (Ruta Lee). ABC's HootenannyTV show debuted the same year, but the folkie fad was soon thankfully wiped out by the British invasion.
After these two black & white misfires from major studios, it was up to small, hungry, mostly non-Hollywood indy companies to make the real country musicals-in color. These movies, produced primarily to play in Southern drive-ins, were low budget, but most of them packed in top acts doing prime material. Then-current hits were often mixed with classics from the past. Some of these opened in the North (Cincinnati!), but were rarely reviewed and are not in many review books now. In '62, the year Garth Brooks was born, Ray Charles' popular Modern Sounds in Country and Western MusicLP had helped expand the appeal of country music. It took until '64 for Billboard to start its Top Country LPs chart, however. That same year Johnny Cash first recorded some Dylan songs and the conservative Grand Ole Opry fired a dozen top stars (they had also fired Hank Williams and told Elvis to keep his day job). This probably caused some acts looking for more exposure to sign up for the following features.
COUNTRY MUSIC ON BROADWAY was the first, released in April '64, and it's 95 mins. of almost non-stop country music heaven (in color) - with no plot at all! It was distributed by Howco, the company that brought us The Brain From Planet Arous('58) and The Undertaker and his Pals('66). A bunch of stars play a theater in New York on 42nd Street (!), obviously actually a Grand Ole Opry style barn dance set in Nashville. Audrey Williams (who sings-terribly), used this to introduce her teenage son Hank Williams, Jr. and some acts do Hank Sr. songs. Black & white TV footage of Hank Sr. ("Hey Good Lookin') is shown to a sad Hank Jr. by Hank Snow, who claims it's his 16mm "home movie" (!). Some of the many highlights are George Jones ("White Lightning" and "She Thinks I Still Care"), Hank Snow ("I'm Movin' On" and "A Fool Such as I"), Buck Owens ("Act Naturally"), and Porter Wagoner ("Satisfied Mind"). You also get Ferlin Husky (as himself and his comic character Simon Crumb), Skeeter Davis, Flatt and Scruggs, The Wilburn Brothers, Wilma Lee and Stony Cooper, Roy Drusky, Bill Anderson, Stonewall Jackson, Merle Kilgore, The Stoney Mountain Cloggers, comedy from The Duke Of Paducah, and host Ralph Emery (now on TNT). MGM and producer Sam Katzman continued the Hank Williams revival in November with the semi-fictional Your Cheatin' Heartstarring George Hamilton. It was directed by the same guy as Hootenanny Hoot(Gene Nelson).
In September, a company called Colorama Roadshows released two color musicals that I'd love to own and see. They were obviously shot back to back. COUNTRY MUSIC CARAVAN featured "27 performers," including the female stars Jean Shepard, Goldie Hill, and June Carter, Marty Robbins, Ernest Tubbs, Ray Price, Jim Reeves, Carl Smith, Faron Young, The Jordinaires, Billy Byrd, lots of comedy (Lonzo and Oscar, Minnie Pearl, and The Duke Of Paducah), and The World's Champion Square Dancers. TENNESEE JAMBOREE also had Carter, Hill, Robbins, Tubbs, Price, Reeves, Smith, The Jordinaires, Lonzo and Oscar, and Pearl, plus Webb Pierce, Little Jimmy Dickens, Chet Atkins, Benny Martin, Rita Fay, and The Carolina Cloggers.
1964, the year of the British Invasion, was also the year of Hershell Gordon Lewis' Moonshine Mountain(with Chuck Scott as a country star) and his Southern gore classic 2000 Maniacs, two Elvises in Kissin' Cousins(also by Gene Nelson), and Russ Meyer's Lorna. In 1965 a "Country Music Boom" was declared. Many new syndicated country TV shows debuted, The Beatles recorded "Act Naturally," and new-look country bands, with modern electric instruments starting becoming popular; Buck Owens and The Buckaroos (formed in '64), Merle Haggard and The Strangers (signed to Capitol Records in '65), and Waylon Jennings and The Waylors (formed in '64, to Nashville and RCA in '65).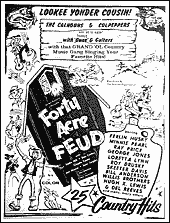 In August '65, FORTY ACRE FEUD, by exploitation showman genius Ron Ormond (Please Don't Touch Me!, The Monster and the Stripper)was released featuring "25 hits." It starred Ferlin Husky as Simon Crumb of Shagbottom, Del Reeves as his amateur singer friend Del, and Minnie Pearl (who talks to the camera) as Del's mother. There's a comic plot concerning a State election and a Smokey Mountain Jamboree Show, aired "from Bradley's Barn." Ferlin appears in one scene as Simon watching Ferlin sing his '57 teen appeal ballad "Gone." Besides several songs each by the two singing stars, you get two songs each by George Jones (an unbilled Johnny Paycheck sings with him), Skeeter Davis with her incredible hair (including "End of the World"), Loretta Lynn (the earliest and best footage you're likely to find of her), Ray Price, Bill Anderson and The Willis Brothers, and one each from Hugh X. Lewis (a comic talking blues about "this atomic age"), and Roy Drusky. (See interview the Ormond family in Psychotronic Video #26for the whole incredible story.)
SECOND FIDDLE TO A GOLD GUITAR followed in September, from Marathon (which had produced Country Music On Broadway). Comedian Arnold Stang (!) is a country fan with a social climbing wife (Pamela Hayes) who is backing an Italian opera and former Bowery Boys Huntz Hall and Leo Gorcey play comic stage hands. It's another winner with incredible performances by Bill Monroe ("New Mule Skinner Blues" and "Blue Moon of Kentucky") Lefty Frizzel ("If You've Got the Money, Honey"), Kitty Wells ("It Wasn't God Who Made Honky Tonk Angels"), lap steel guitar session great Pete Drake (using a voice tube like Peter Frampton later did), Webb Pierce, Dotie West, Connie Smith, Homer and Jethro, Sonny James, Del Reeves, Faron Young, Little Jimmie Dickens, George Hamilton IV, Jimmy Wright, Carl & Pearl Butler, and Minnie Pearl who sort of sings. Everyone performs on the same set, complete with Grand Ole Opry style "just folks" hanging out. The "score and musical arrangement" credit goes to the (thankfully offscreen this time) Audrey Williams, so, as in On Broadway, many Hank Williams songs are featured.
In '66, Buck Owens played at Carnegie Hall (a big deal at the time), Nashville session men played on Dylan's Blonde on BlondeLP, and Rick Nelson recorded his album Bright Lights and Country Music. It was another good year for country musicals.
Woolner, a company known for importing Italian horror movies, released LAS VEGAS HILLBILLYS in May. Famous to some as the only movie with both Jayne Mansfield and Mamie Van Doren, this actually stars Ferlin Husky, this time as Woody. I guess Ferlin is an acquired taste but after seeing his movies, I appreciate him as kind of like Jim Varney but with a good singing voice. Woody inherits a run-down out-of-the-way casino, and ventures to Las Vegas with friend Jeepers (actor Don Bowman), and finds it being being run by Boots (Mamie). Comic situations involve gangsters (Luis Quinn and Richard "Jaws" Kiel) and bikers. Ferlin's rocking "White Lightning Express" starts things off right, Connie Smith ("Nobody But a Fool") is my favorite singer here but I also like Jayne and Mamie singing. Besides Ferlin, other songs are by Sonny James, Roy Drusky, Del Reeves, Bill Anderson, and Wilma Burgess. The Jordinaires, The Duke Of Paducah, and some kid cloggers also appear. JOHN LAIR'S RENFRO VALLEY BARN DANCE, from Kentucky, was a no star, but probably great to see musical feature, released in July.
MUSIC CITY U.S.A., released by Gemini Pictures in August, seems like several shorts edited together, which is fine because no plot gets in the way of the almost non-stop performances. Most songs are live (most of these movies are lip synched to recordings) on various stages with an audience of visiting disc jockeys. The first part is an interesting tour of Nashville including Ernest Tubbs' record shop and features Webb Pierce singing in a moving car (it's like a rock video). Dave Dudley does the speed classic "Six Days on the Road" and a pro 'Nam war song. Other acts include Charlie Louvin, Jean Shepard (who yodels), excellent fiddler Gordon Terry, The Wilburn Brothers, Loretta Lynn, Cajun singer Jimmy Newman, The Osborne Brothers, Justin Tubbs, Autry Inman, and Warner Mack. Producer/director Preston Collins had worked on H. G. Lewis' early nudie film Living Venus('61). THE GOLD GUITAR released the same month features Del Reeves, Roy Drusky, Hugh X. Lewis, Margie Bowes, Skeeter Davis, Bill Anderson, and Charlie Louvin. It was "filmed in Atlanta."
ROAD TO NASHVILLE came from Crown International (a long time rival to A.I.P.) in September. Comic Doodles Weaver (once with Spike Jones) claims to be a movie producer, so Connie Smith shows him around and we see non-stop great acts doing auditions and shows. Road has many top female acts including the incredible high energy bluegrass Stoneman Family, The Carter Family, Connie Smith, in silver lame pants ("Nobody But a Fool"), Norma Jean ("I Wouldn't Buy a Used Car From Him"), Dottie West, and Kitty Wells. Top billed Marty Robbins (also a producer) does five songs including "Devil Woman" and "El Paso." A very cool Waylon Jennings and his rock style band do an intense "Anita,"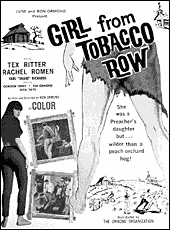 Hank Snow does "I've Been Everywhere," and Webb Pierce does a great non-hit ("You Ain't No Better Than Me"). Also with Lefty Frizzel, Johnny Cash, Bill Anderson, The Osborne Brothers, Porter Wagoner, and others. Will Zens directed, Ralph Emery does intros and the cinematography is by future Oscar winner Vilmos Zsigmond (The Last Waltz). The same month Howco released COUNTRY BOY starring Randy Boone and Sheb Wooley with guests Skeeter Davis, Grandpa Jones, Lonzo and Oscar, The Glaser Brothers, The Stoney Mountain Cloggers, and others. Majel (Star Trek) Barrett also has a role.
Earl "Snake" Richards starred in two '66 releases. In August, Ron Ormond's THE GIRL FROM TOBACCO ROW featured the one-time (post Buddy Holly) Crickets singer Richards as an ex-con (not a bad guy, though), with Tex Ritter as a reverend, and Ralph Emery, this time acting. The country drama features some impressive gospel singing. THAT TENNESEE BEAT, made by Lippert and released by 20th Century Fox in Oct, stars Earl as a no-good country "punk" who is eventually reformed by a wheelchair-bound gospel singing reverend (Minnie Pearl!). It's a bit plot heavy, and Earl sings too many times, but you do get unique performances by The Statler Brothers ("Flowers on the Wall," later heard in Pulp Fiction) at a country picnic, Pete Drake (doing a cool blues number with his voice tube), Boots Randolph ("Yakety Sax," AKA The Benny Hill Showtheme!) and more dancing from The Stoney Mountain Cloggers. Actors include Dolores Faith (The Phantom Planet) and Merle Travis. In November, A.I.P. released NASHVILLE REBEL starring Waylon Jennings, who sang and acted. It also features Tex Ritter, Sonny James, The Wilburn Brothers, Faron Young, Loretta Lynn, Porter Wagoner, Cousin Jody, Archie Campbell, and Henny Youngman! Despite better distribution than most of the movies mentioned here, it was not a hit.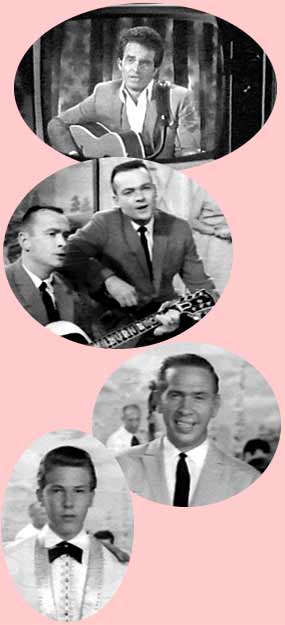 The number of country musicals decreased in number and quality in '67, the year The Country Music Hall Of Fame was founded and Gram Parsons recorded with his International Submarine Band. In The Woolner Brothers' HILLBILLYS IN A HAUNTED HOUSE (released in May), Woody (Ferlin Husky) and Jeepers (Don Bowman) returned to visit a haunted mansion. As a long-time reader of monster movie magazines, I had always read that this was beyond horrible, but it's actually fun to see Basil Rathbone, John Carradine, Lon Chaney, Jr, a dragon lady (Linda Ho), and a gorilla mixed in with comedy and country stars. Merle Haggard is the musical highlight doing two numbers ("Closing Time" and "Someone Told My Story in a Song") and other songs are by Sonny James, Molly Bee, Marcella Wright, and also, unfortunately, ex-burlesque stripper co-star Joi Lansing, and comic relief Bowman.
COTTONPICKIN' CHICKENPICKERS, released by Southeastern Pictures in May, is a cheap-looking (even by cheap country movie standards) moonshine musical, that makes the Woolner Hillbilly...movies look like classics. It stars another comic pair (Del Reeves and Hugh X. Lewis). They both sing cheatin' songs and and so do Mel Tillis, Margie Bows (she's pretty good), Little David Wilkins (a big guy, actually, who does Brenda Lee's "Comin' on Strong") and David Houston, who plays the sheriff.
HELL ON WHEELS from Crown, in June, was a better moonshine movie starring John Ashley as the moody, bitter, jealous brother of a famous Nashville stock car driver (Marty Robbins as himself). Robbins and Connie Smith both sing several good songs and The Stonemans appear. The Will Zens movie co-stars Gigi Perreau and future crazed right-wing California Congressman Robert Dornan as a federal officer. Other '67 releases were WHAT AM I BID? (in July) starring LeRoy Van Dyke, with performances by Al Hirt, Tex Ritter, and Faron Young. November brought COUNTRY MUSIC HOEDOWN starring Pee Wee King and "14 other acts filmed at 7 barn dances."
In '68 Sweetheart of the Rodeoby The Byrds (with Graham Parsons) was released and The Stones (under the influence of Parsons) recorded country sounding tracks for Beggars Banquet. Elvis and Jerry Lee Lewis were both back on the country charts (country fans had rejected Presley since 1960) but Glen Campbell and Bobby Goldsboro were also making country hits. George Wallace ran for president with General Curtis LeMay as his running mate. Marty Robbins was a celebrity backer. Hank Williams Jr. starred in Sam Katzman's A Time To Singfor MGM and AIP released Killers Threeco-starring Merle Haggard and Dick Clark (!?).
FROM NASHVILLE WITH MUSIC ('69), which I haven't seen, was the last of the country musical comedies but is has a great line-up. The Craddock Film release features Merle Haggard, Buck Owens, Tammy Wynette, George Jones, Marty Robbins, Don Gibson, Carl Smith, Bill Anderson, Wynn Stewart, Bonnie Owens (then married to Merle), The Jordinaires, comedy from Cousin Jody, and other acts. Charlie Pride (Hank William's "Ka-Liga") was the first (and last) black person to appear in a country musical. Leo G. Carroll (from The Man From U.N.C.L.E.) and '40s singer/ actress Marilyn Maxwell star as a couple vacationing in Nashville who think they have tickets to the "opera." Eddie Crandall, who had been in Hell On Wheels,directed.
That same year, the long lasting (in syndication) Hee Haw(based on the Canadian show Hot Diggity) debuted (on CBS), and the short-lived The Johnny Cash Show(on ABC) became the first prime-time network country show. The guest were more often Joni Mitchell, Eric Clapton, Neil Young, Linda Ronstadt or The Guess Who than country acts, though. Cash was everywhere and his excellent documentary JOHNNY CASH! THE MAN, HIS WORLD, HIS MUSIC also featured Dylan (and Carl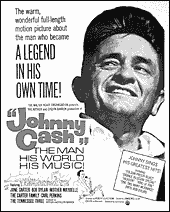 Perkins). Nashville Skyline(with guest singer Cash) was Dylan's least impressive LP to date, but it set the stage for country rock by The Flying Burrito Brothers (with Parsons), Poco, Ronstadt (backed by the future Eagles), and others. Meanwhile the new (Vegas) look Elvis was setting country fashion trends with big sideburns and out-of-control leisure suits, and younger country musicians started to resemble rock and boogie bands with long hair and beards. This was the perfect time for the first country hits by Kenny Rogers.
THE NASHVILLE SOUND ('70) was a documentary directed by Robert Elfstrom (who had also made Johnny Cash!...) partially live at The Grand Ole Opry. It's good, but I miss the comedy and lip-synching! It features female stars Dolly Parton ("Blue Ridge Mountain Boy"), Loretta Lynn ("Don't Come Home 'a Drinkin'", "To Make a Man"), and Jeannie C. Riley, ("Harper Valley P.T.A.," The Girl Most Likely"), old timers Roy Acuff ("Wabash Cannonball," "The Great Speckled Bird" with yo-yo tricks), Bill Monroe ("Body and Soul"), Tex Ritter ("High Noon"- he sounds awful), and Lester Flatt and Earl Scruggs (but not together) plus Charlie Pride, Porter Waggner, Bob Luman, and of course, Johnny Cash. Tracy Nelson and Mother Earth rehearse (she sounds great) and Doug Kershaw records in a studio. Ralph Emery hosts, The Stony Mountain Cloggers do their thing and others were interviewed and/or were seen doing parts of songs.
By 1970, more acts were doing country (Workingman's Dead, Phil Ochs Greatest Hits...) and Anne Murray was big on the country charts. COUNTRY MUSIC JAMBOREE was a no-star movie from Arkansas with director Gene Williams as an aspiring country singer. Merle Haggard was in Chisumand Waylon Jennings recorded the soundtrack for Ned Kellystarring Mick Jagger. The next year CBS canceled Hee Hawand all their country appeal sitcoms (Beverly Hillbillies, Green Acres) and ABC canceled The Johnny Cash Show. Roy Acuff recorded with The Nitty Gritty Dirt Band and John Denver was high on the country charts. In '72 The Ryman Auditorium closed and was nearly torn down. By '73 Marie Osmond and Olivia Newton John (!) were considered country. Several other country movies are worth mentioning. THE NASHVILLE STORY ('73) uses many interviews and behind-the-scenes segments. SWEET COUNTRY ROAD ('81), from Canada, stars the late Buddy Knox and features Johnny Paycheck, Boxcar Willie, Ronnie Stoneman and others. THE OTHER SIDE OF NASHVILLE ('84) has performances by Willie Nelson, Carl Perkins, Emmylou Harris, and many others.
From here on the definition of "country music" gets fuzzier. By the '80s country had (temporaily) lost its twang and Juice Newton and Eddie Rabbit (from Brooklyn!) were on the top of the charts. Dolly Parton, Randy Travis and Dwight Yoakam all have serious movie and TV acting careers, and we now have at least one cable channel devoted to country music videos and live performances.
It took me years to find VHS copies of these movies and I'm still searching for the others. Some show up occasionally on TNT or on local Southern TV stations. It would help if you had a friend with a VCR in Dixieland. Try these companies: H. Butram Entertainment of Nashville (615) 242-0377, Something Weird Video (206) 361-3759, and Movies Unlimited (800) 4-MOVIES.
° ° °
Michael J. Weldon is author of the invaluable Psychotronic Encyclopedia of Film and Psychotronic Video Guide.
[ Top ]