Reason #1:
YOU CAN'T FOLD A SLICE IN ONE HAND BECAUSE NOBODY WEST OF THE MISSISSIPPI KNOWS HOW TO BAKE A DECENT PIZZA CRUST.



Fig. 1a:
New York Slice
Folding pressure is smooth, creating the all-important channel of hot pizza lipids to aid in easy mastication.




Fig. 1b: Seattle Slice


Crust is too damn thin and so overcooked as to create a pizza/ matzo hybrid that would make even the least discriminating rabbi exclaim...


"...Oy Vey! What did I do to deserve such a shitty slice?"

Reason #2:
HAM AND PINEAPPLE BELONG AT A LUAU AND NOT ON A F**KING PIZZA.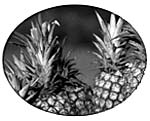 Other ingredients which
should NOT be on a pizza:
---
Asparagus
Seahorse Roe
Capers
Pine Nuts
BBQ Sauce
Corn Kernels
Bernaise Sauce
Diced Tofu

Thai Peanut Sauce
American Cheese
Coconut
Currants
Hoisin Sauce
Ginko Leaves
Royal Jelly
Blue-Green Algae

Reason #3:
BEER CHOICES AT RESTAURANTS:



Standard West Coast selection:

OVERPRICED OREGON MICROBREW WITH COFFEE BEANS..............$$$

OVERPRICED WASHINGTON MICROBREW WITH BOYSENBERRIES..............$$$

OVERPRICED LIGHT BEER IMPORTED FROM HOLLAND..............$$$

Standard East Coast selection:

Enjoy
BEER
with your Fresh Hot Pizza!

We have both kinds:
MICHELOB & NATTY LIGHT
(pitchers available)
Reason #4:
YOUR TYPICAL EAST COAST PIZZA MAKER VS. YOUR TYPICAL WEST COAST PIZZA MAKER:


"Pops"

Short-to-no hair prevents unwanted pizza additives.
A shirt cleaned bi-monthly can add many savory flavors to your slice.



" 'Topher"

Orange hair and Hipster-Retro shirt from overpriced vintage store can spell disaster for your pizza order.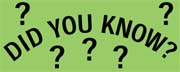 The Arts & Entertainment weekly in Eugene, Oregon regularly chooses LITTLE CAESAR'S as the best pizza in the area, proving that local legend Ken Kesey's Electric Kool-Aid Acid Test did indeed have severe repercussions.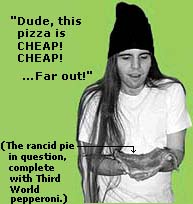 Reason #5:
NO SELF-RESPECTING EAST COAST PIZZA SHOP OWNER WOULD TURN THEIR RESTAURANT INTO AN INTERNET CAFÉ.

Somewhere in San Francisco:
"This pizza is inedible, but the new Xena fan website is bitchin'!"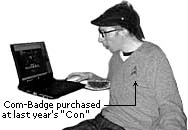 As a transplanted East Coaster who has made his home on the Wrong Coast, I know more than anyone how the tranquility of a good slice simply doesn't exist here. Think about THAT the next time you complain about the grease on your pizza, and think about those less fortunate than you who have NO GREASE TO COMPLAIN ABOUT AT ALL!